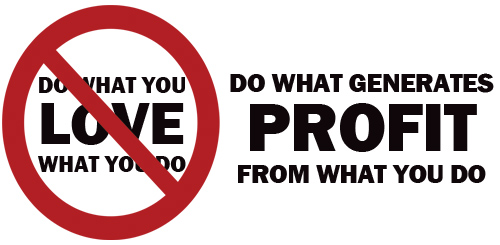 My partner Matt and I have been in the clothing and accessories business for several years, consistently selling hundreds of thousands of dollars worth of product that we genuinely like. By all accounts this sounds like success, but honestly we work a ton of hours and the income-to-effort ratio is really not to our satisfaction. Things have shifted very recently though and I'm thrilled, though you might be surprised at how.
We've started selling clothing and accessories we honestly do not like and would not wear, and we've been selling a lot of it every single day since we started doing it. We opened a second online store and started offering trendy t-shirts and accessories with cliches about keeping calm and mustaches. This is a radical departure from our usual design work, which features clever humor paired with well-executed original illustration. We prefer the latter, meaning it's what gives us joy and constitutes what we ourselves would wear. That said, I have no problem with our new online store. I'm not "doing what I love" — I'm doing what's profitable. And no, this doesn't make me a "sell out" — it makes me a successful entrepreneur.  I'm doing what's extremely easy for me and what I know how to do really well as a professional. I'm providing a product people want to buy at an affordable price point, which is a win for me and my new-found customers. If you think less of me for doing this, that's fine. I'm not looking for anyone's approval; I'm looking to pay my bills.
There is a pervasive and toxic ethos in small business culture (especially in creative small business) that you should do what you love and love what you do, and that by sticking to your artistic principles your market will eventually "find" or "discover" you or your brand and catapult you to success while still retaining your creative credibility. But if you capitalize on a trend or simply do something you're indifferent to for profit, it's seen as less than desirable, or even worse, people will tell you you'll fail for doing it. I'm here to tell you this is WRONG and any business coach who tells you otherwise is LYING. This touchy-feely, start-with-why, follow-your-dreams-and-money-will-follow fairytale sounds good, but it's NOT practical and it leaves no room for discussion of important matters that determine profit, like discovering marketplace inefficiencies and exploiting them to your advantage. Running a profitable business is not about YOU. It's about making money, and that means it's about selling what other people want to buy, not what you want to buy.
The "do what you love" mantra is a recipe for disaster (and also classist). It's what keeps starving artists starving. If doing what you love doesn't earn you money and doing what you're indifferent to is frowned upon, you're stuck. Even worse, that type of failure is an indictment of you personally. You were selling YOU (in the form of your love, your passion, etc.) and it didn't work, therefore you suck. Don't get me wrong, doing what you love is great! But strict adherence to this kind of mindset should only be expected in the realm of hobby, not the reality of a for-profit business. If what you love and what makes you money coincide, that's great, but it's absolutely not necessary and it's often not possible.
I have to say, moving to Los Angeles really crystallized my thoughts on the "do what you love" ethos. The Los Angeles economy is primarily based on creative work. This city is home to actors, writers, set designers, cinematographers, costumers, artists, comedians and other creative professionals from all walks of life. Since moving here I've met so many talented creative professionals that blow me away.
While many of these professionals do what they love, they also do what pays the bills, and the best part of being in Los Angeles is that this is considered the norm. No one here is going to look down on you from behind their Urban-Outfitters-approved-eye-glasses-as-a-fashion-accessory. The comedians you think are so smart, clever, funny, and edgy make extra cash doing punch-up for movies you think are stupid.  The illustrators you think are so mind-blowing that got featured in Juxtapoz or Hi-Fructose are making extra cash freelancing for Disney and Nickelodeon and The Cartoon Network. This is talked about openly and with no shame in the creative community here, but it's a reality that's largely ignored by many aspiring creative professionals.
The major difference between a hobbyist and a professional is that hobbyists are doing something they enjoy and professionals are doing something that pays their bills. If doing what you love isn't paying your bills, you're not a failure; you just haven't started doing what's profitable. If you want to earn a living doing creative work, think about what people will pay you the most for, NOT what you most enjoy doing. Doing what's profitable (even if you personally do not find it interesting) doesn't make you a fraud — it makes you a smart business person.
This content is copyrighted. See my content sharing policy here.