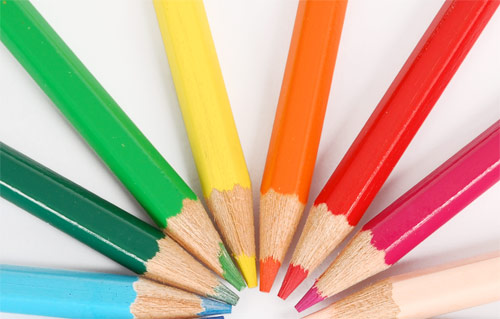 If you started your business purely because you really enjoy pulling a squeegee across a mesh screen or manually operating your vintage letterpress, this post isn't for you. If you started your business to make money, then listen up! Every day I talk to artists who are convinced some aspect of their production methods or manufacturing materials is a must-have and that their customers care deeply about this thing they're so stuck on.
Here's the reality: Most of your customers probably aren't married to wearing American Apparel t-shirts. Most of them don't know what the heck "giclee" means. They cannot tell the difference between a notecard set that you made by hand with a letterpress vs. the set that was mass-produced using modern machinery to produce a similar effect. Your customer doesn't view your products through the same lens as you. More often than not they are buying a product because they like the design of something, not necessarily due to the specific components or manufacturing techniques used in its production.
When evaluating your product manufacturing methods and components, ask yourself these questions:
 1. What Will Make Me More Money?
My partner and I sell t-shirts and accessories and we do not print on American Apparel; we print on blank shirts that cost about half as much as American Apparel. They're perfectly nice and soft and well-made with a great fit, but don't have the hipster cache of American Apparel. We sell thousands of shirts at live events every year and no one has ever decided not to buy a shirt from us because it wasn't American Apparel. It's very rare that we run into someone who has an opinion on our blank shirts one way or another. Mostly our customers are looking for a comfortable tee with a good fit that features a good design that speaks to them in one way or another. We also very rarely run into a customer who doesn't like our shirts because they want a thicker, heavier weight shirt — it can happen, but it's extremely unusual. We don't expect to please everyone, so we try to design our products based on what will please most people.
If we chose to print on a more expensive blank shirt because we just assumed our customers insisted on it we'd make less money. We'd either have lower margins (less money for us) or we'd have to raise our prices (making our price point too high for many customers — again, less money for us). I'd print on a more expensive blank shirt if I had some evidence to support that my customers really wanted shirts made of organic cotton or a certain brand of shirts, but it's simply not the case. I see no reason to adversely affect our income to add a product feature that the overwhelming majority of our customers don't care or ask about.
2. What Is Scalable?
When you started your business, maybe advertising that all your products were handmade by you sounded like a charming selling point. But what happens when your order volume increases or a department store calls wanting to place a large wholesale order? Is it realistic for you to keep making everything yourself by hand when you have to sell thousands of pieces every month? Even if you could keep up with all that production, is that going to give you enough time to tend to the other parts of your business, like new product development?
A product is not inherently bad because it was made by a vendor or employees, and your customers certainly won't enjoy the product any more or less based on who physically made the item. If your creative business is your livelihood (or you want it to be), think about how you're going to keep up with production as demand increases.
3. How Do You Know What Your Customers Really Want?
Are you assuming your customers want you to use specific production methods or components or did you come to this realization based on their feedback? How do you really know your customers would *only* buy posters you designed if they are screen printed vs. printed digitally? How do you know your customers prefer a more expensive piece of jewelry with fine gem stones instead of a more affordable piece with faux stones? Selling at live events is a great way to get customer feedback in real time. What are your customers focusing on about the products? Are they actually interested in the manufacturing process? Are they more concerned with price than the quality of the materials? Are they buying your items specifically because they are handmade by the designer or 100% organic or 14 karat gold? Take note of what your customers seem to like about your items when they're right in front of you, and think about ways you can lower your manufacturing costs while still producing a quality finished product your fans will enjoy