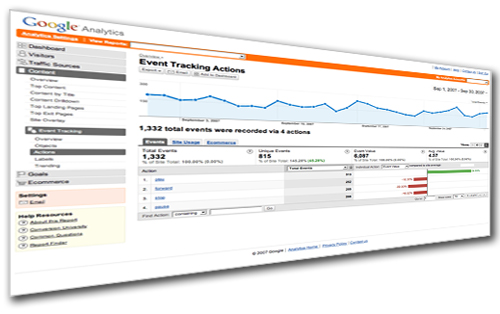 Yesterday I wrote an article about the cumulative effects of marketing and a reader asked how I track my results. First and foremost, if you missed my article yesterday, let me repeat YOU CANNOT PERFECTLY TRACK EVERYTHING. You just can't. Things happen indirectly as a result of your marketing, that's where some of that cumulative magic comes in. (Read my article from yesterday for examples of this.)
Now that we're clear on that, let's talk about what you can track using Google Analytics (because it's free and pretty easy to use):
1. Bounce Rates
When you find a way of promoting your site be it advertising, guest blogging, cross-promoting, etc. You'll want to pay attention to what the incoming traffic from these sources does. If your traffic has a high bounce rate from a source (meaning the vast majority of visitors leave after viewing one page) that source might not be very well-targeted for you and you may want to turn your attention elsewhere.
Important: View the bounce rate in the context of your site's bounce rate. If your entire site has a high bounce rate, the problem may be your site, not your marketing venues.
2. CPC
CPC, or cost-per-click, is what you pay to get a person to come to your site. It's easy calculate a CPC for an ad. If I pay $100 for an ad and I get 500 clicks then I paid 20 cents per click. The tricky thing is everything has a CPC, even "free" stuff. (Side rant: There is no such thing is as FREE marketing. I am so sick of hearing about FREE marketing. All marketing costs money unless you don't subscribe to the thought that time is money. And if you don't you should. Your time is valuable. If your FREE marketing costs 20 hours it is 20 hours x  your hourly rate. Sometimes FREE can be expensive.)
To calculate CPC on stuff you don't pay for, such as blogging, SEO, etc. keep track of the hours you spend on those things. Then decide what you think your time is worth hourly. If you spend 2 hours per week blogging and you think your time is worth $25 per hour, you spend $50/week blogging. Now go into your site stats and see how much traffic your blog generates. If your blog gets 100 visitors per week you are paying 50 cents per click.
What is a good cost per click?
There is no general answer. Lower is better, but good depends very much on your business. It should be based on the average value of your orders and your conversion rate.

3. Conversions
This is the metric we look at most often. How much did a traffic source result in direct sales? I recommend that, if possible, you track other things than sales, such as Facebook fanning, Twitter following, newsletter sign ups, etc.
Tracking that stuff can be difficult because you either need to be pretty tech savvy or spend money on fancy technology. Google Analytics is free and it will track sales and newsletter sign ups (assuming you can install Google tracking code on your thank you pages for newsletter and sales). It won't track your Facebook and Twitter sign ups at this time but it's better than nothing.  (I am sure eventually you will be able to track that stuff with Google Analytics, but not today.)
Tech savvy types can use cookies or track IP addresses of their visitors and use that to track visitor activity in a database. They can use AJAX to track clicks on their Facebook and Twitter links. This technology allows the business owner to see a complete profile of a customer's activity on their site.

4. Overall Traffic
You should be seeing an overall increase in traffic as you spend more time and money on your marketing efforts.  I know that as we increased our advertising expenditures on our ecommerce website we saw a drastic increase in site traffic from all over the place. It's because more people were coming to our site, sharing our links with friends, spreading our site around via word of mouth, etc.
If I get 1,000 people coming to my site each day and just 1% of them are sharing my site with others that means I have 10 people promoting for my brand EVERY SINGLE DAY! Now multiply that over the course of a year and I end up with thousands of people promoting my brand.
This content is copyrighted. See my content sharing policy here.