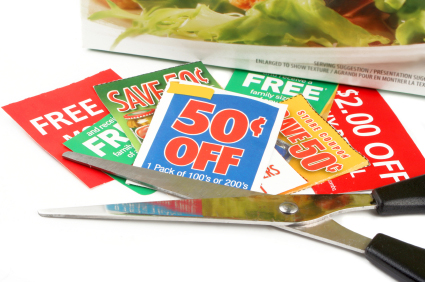 Did you know not all coupons are created equal? A smart marketer uses different kinds of coupons in different ways, depending on her goals. While discounting your products may sound like a money-loser, it can actually be a great way to boost sales and grow your business if you use them properly. Here are four ways that you should be using coupons in your business:
1. The Upsell
An upsell coupon is designed to get customers to increase their average order value. The thinking is that you can give them a better deal because they are buying in volume. You can test a variety of offers such as free shipping on orders over $50, 10% off orders over $100, etc.
As a marketer, I love this coupon type. If you're running an offer like this, shout it from the rooftops. You can put it on your website's "current specials" page (which you can link as a pop up next to your coupon field on your check out pages). You can post these deals to coupon sites like RetailMeNot. You can advertise these deals with your newsletter and social media accounts. You can even put them all over your home page, product pages and shopping cart pages. You want customers to know they'll save money if they buy more stuff. Your goal is to get them to spend more than they might without the coupon.
2. The Limited Time Offer
Limited time offers are a great way to create urgency. The idea is that if the customer doesn't use this coupon right now, they'll lose the opportunity to save money. When promoting a limited time coupon, be sure to stress that the offer expires today or tomorrow or this weekend, etc. The customer should be aware that time is running out to get the deal.
The limited time offer works well for getting your mailing list subscribers to buy now. It's also great for boosting sales during slow periods. Deal-a-day sites like Groupon use this strategy, offering a deep discount for 24 hours only.  I also like to give limited time coupon codes to bloggers who might be covering my business. It gives their readers a reason to shop today since the offer will run out shortly.
3. The Scratch-My-Back-I'll-Scratch-Yours
Coupons can be used as a carrot to get customers to do something. You can use these types of offers to get customers to join your newsletter, like you on Facebook, refer their friends, etc. I think this kind of offer works especially well with Facebook reveal tabs.
To benefit from this type of offer you'll need to decide what action you want your customers to take and then set up the coupon offer in close proximity. For example, if you want newsletter sign ups then say "Get an instant 15% off coupon code when you sign up for our newsletter" and put that copy right above your newsletter sign up box.
4. The Ego Boost
Customers are more likely to use a coupon if they think the offer is being made to them exclusively. You can use these type of coupons as a follow up to a customer service snafu or to acknowledge a customer birthday. You can set up a separate list for your top customers and offer them exclusive access to special coupons your other newsletter subscribers don't get.
With this type of coupon, the goal is to make sure your customer is aware that not everyone is getting the coupon. They are only getting this offer because they are special. Giving a customer what feels like special treatment increases the likelihood that they'll make a purchase.
5. The Gift Card
Using gift cards as coupons is a strategy that's unlike free shipping and percent off deals. You can use a gift card in any of the four situations above (instead of percent off or free shipping), but gift card offers pack a special punch. When a customer receives a gift card the psychology at work is "I have free money to spend, if I do not spend this free money I'll lose it." Even if the net result in terms of cost is the same as other coupons, gift card offers feel like better deals and are likely to be used.
If you haven't experimented with offering a free gift card for a desired action, test this out. The results might pleasantly surprise you.
This content is copyrighted. See my content sharing policy here.