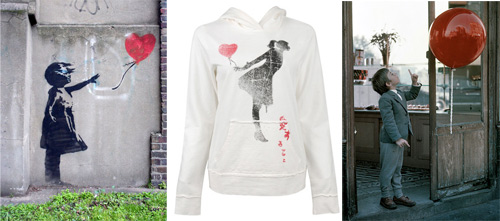 Monochrome kids with red balloons from Banksy, Forever 21 and the silent film Red Balloon
This might be a bit of a controversial post, but I think it's a good conversation to have. What exactly is a copycat? How do you define it? How fast are you to accuse someone of copying you? I've been on both sides of this story, and if you stick around in the creative world for a long time you probably will be too. It's a bummer when someone is clearly ripping you off, but it's just as infuriating to be accused of it when you aren't actually guilty.
I personally subscribe to the opinion that there's nothing new under the sun. Everything that's been done has been done before. Thus, I'm very reluctant to call someone a copycat. Unless I see someone outright using my brand's original illustrations, I don't assume they copied my idea. Most of the stuff out there that looks similar is more of a reflection of an overall trend than one individual copying another individual.
All of that said, there certainly are times when people do copy. (The flap between Paperchase and Hidden Eloise is a clear example of it.) So how can you tell what's a legit case of copying and what's not worth getting your knickers in a twist about? Here are some criteria:
1. How original is your design?
There are a lot of young popular artists right now who are inspired by Margaret Keane. (If you don't know your art history, Keane is known for her waifs. She painted pale waifish girls with big heads and big sad eyes. Sound familiar? It should, because it's all over sites like Etsy.com.) Keane's was creating her waifs long before a lot of her followers were even born.
To me, it's no biggie. We've had impressionists who like to do landscapes before and after Monet. We've had people into splattering crap on a canvas long since Pollock. What gets my goat is people claiming that the 20 something artists on Etsy have some exclusive right to this aesthetic, like they invented it.
Before you accuse someone of copying your style or design, make sure your work is completely unique. Take a long hard look around and see how many other people are doing things that look similar. Think about where your ideas came from. Were you influenced by a trend? Were the other designers influenced by a trend? The fact is most of us are influenced by things that came before us and it's not a bad thing. Design goes in cycles and the internet has certainly played a role in homogenizing design.
2. Are you being duped by superficial details?
Sometimes designs that appear to be similar really aren't. This post was somewhat prompted by an email that came to my ecommerce business recently. A company accused us of using their logo as a source for our design. Their logo was a drawing of an animal and our design was a drawing of the same kind of animal. We'd never seen or heard of their logo before. Our design was based on a public domain nature photograph and aside from the coloration (which was based on the animal) and the fact that it was the same kind of animal, the designs had nothing else in common. The person accusing us was fixated on color and subject, not the actual details of the design.
Color schemes and subjects go in cycles in terms of popularity, so when you're evaluating whether something is a copy it's a bad idea to focus on the subject or color of the design. These superficial details are rarely the substance of the actual design.
3. Are you sure you actually did it first?
If you really want egg on your face, accuse a designer of copying your work and then find out they created their piece first. Oops. A popular website I sometimes peruse tried to argue that the hoodie in the image above (designed by Forever 21) was a rip off of the Banksy's street art (also pictured above). It was then quickly pointed out that Banksy's image was probably inspired by the silent film The Red Balloon (image also above). This is a perfect example of my point about everything being influenced by something that came before. So before you call someone out, consider whether they were maybe drawing from the same source of inspiration as you rather than drawing from you directly.
So where does this leave you, the struggling designer, trying to make a name for yourself and get your work noticed? Creating original interesting work is still your mission, but understand that you probably aren't inventing the wheel. You may not be able to beat competition in terms of having designs unlike anything they ever imagined. And if you're doing commercial work, you probably wouldn't want to. Your ability to succeed depends somewhat on your ability to understand what consumers want, and what they want is usually influenced by trends. This brings you back to competing not just as an artist but as a business, in terms of marketing, branding, business development, etc.
This content is copyrighted. See my content sharing policy here.