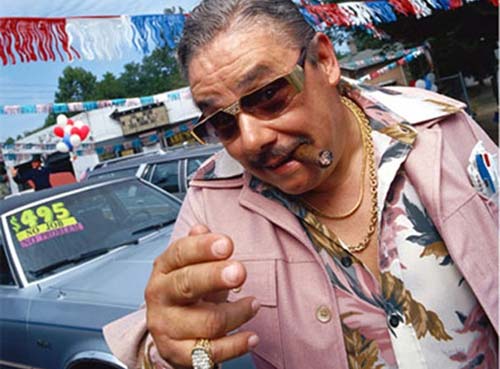 I saw an artisan ask the other day "how can I market my stuff without feeling like a sleazy sales person?" The anxiety of coming off as sleazy or pestering to customers can keep you from marketing your products and services effectively, so below are some surefire ways that keep you from coming off this way.
1. Be There When They Need You
Sometimes people actually want to buy stuff, your best bet at getting money from those people is getting in front of them when they are looking for stuff to buy. Thankfully search engines have made this task easier than ever before. You just have to know how to leverage them. This is why search engine optimization and search engine marketing is extremely important.
Imagine I want to buy organic infant apparel, imagine that's what you sell. If you've done your search marketing job properly I find your brand through organic search results when I search for "organic infant clothes". I find your Adwords ads when I search for "organic infant shirts". I find your products when I look for "organic infant sleepwear" on Google Products. You sell what I want and you've positioned yourself to let me know about your products. This is one of the top ways online retailers get sales. (Hint: I have written and linked tons of articles on SEO, here's where you can find them. SEO and SEM can be very tedious and technical but it's probably one of the most important things you'll for for your online business.)
2. Get Permission
The great thing about online marketing is that customers can give you permission to market to them. They can opt into your newsletter, they can follow you on Twitter, they can read your blog, they can subscribe to your Youtube channel, they can like you on Facebook. These are all actions they take to indicate that they want to hear from you so take advantage of this.
Of course you can abuse this privilege, so it's important to follow some guidelines like making sure you sure content you provide is of interest to your customers and making sure you don't bug them non-stop. This means you don't email them 10 times a day or post 10 promotions to Facebook about your current clearance sale. That is sleazy and annoying. But the weekly, monthly or bi-monthly email they signed up for is fine. The daily blog post is great. The handful of Tweets about a new creative project, a funny news story or a request for feedback is well within reason. Put yourself in the customer's shoes and try to imagine how you'd react if you saw the same content coming from another company's newsletter, blog or social media accounts.
3. Be the News/Buzz
There's a difference between the huge Revlon ad in the middle of Self Magazine and the detailed editorial written in Self about the editor-approved best mascaras, right? You want to be the latter. The former is just advertising, but the latter is a product that's become news and part of the content. Get your products and services in front of the media. Look for opportunities to generate word of mouth from friends and fans. Institute a customer referral program or sponsor a charitable cause that gives people and press outlets a reason to talk about what you're up to and generate interest in your company.
SOCIAL MEDIA BLOGGING MEME: Be sure to check out Blacksburg Belle's post today on how to create useful content in social media.
This content is copyrighted. See my content sharing policy here.