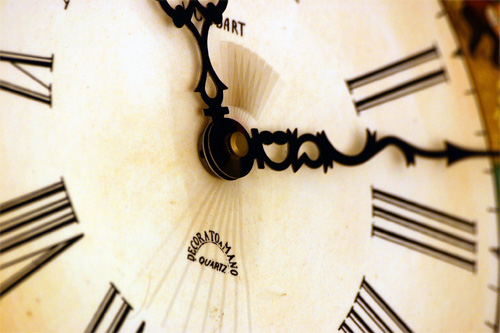 Back to the theme of time is money today. It's a point I've tried to stress in several posts lately. Your labor has value and if you are trying to run a successful business, you have to start seeing it that way. This means that when you waste your time, you waste your money. So here are 5 ways you may be wasting your time, and thus, your money:
1. Complaining
It can be therapeutic, but, unfortunately, not very useful. We all indulge sometimes, but don't let it eat away at your day. It doesn't matter if shop X has a pendant with a swan on it and you think you invented the concept of swan pendants, because right now shop X is winning. They probably aren't obsessing over your pendants. They're spending their time marketing, or shipping orders, or trend spotting so they can direct the development of their product line.
It doesn't really matter what other people are doing that you feel is unfair or hackish or stupid. It's not useful to bitch about how slow your week has been in terms of sales. These things won't help you sell more product or grow your brand. It makes you come off as a whiner, and no one likes that.
Feel free to get it out of your system over drinks at happy hour, but never let this kind of thing consume your day.
2. Being Disorganized
If you've been hoarding supplies like a pack rat and you can never find your packing tape, or you have all your inventory crammed into a too-small box, you're probably spending more time drowning in your clutter and trying to find your products to ship than you are getting stuff done.
A streamlined, well-organized workspace is essential to running a productive business. This means streamlining your space and your processes. (I touched on this point a little when I talked about product packaging eating up your time/money.)
Make a list of all your tasks and think about how you can make them more efficient. Go through your workspace and get rid of stuff you're not using. Go through your inventory and sort it in a way that makes products easy to find.
You should also make a list of conversations you have repeatedly with customers and find a way to reduce your call/email volume.
3. Message Boards/Blogs
You can easily waste your whole day reading blogs and forums and get nothing done. Worst of all, you may be getting crappy advice. Trim your feed reader down to the most useful business blogs and be critical of the advice you see on forums.
Is the person doling out the advice truly successful in your mind? How much product do they even sell — 50 units/day, 50 units/month? Does what they have to say even make sense for your business?
4. "Free" Marketing Endeavors
If running a successful business was free and easy everyone would do it. Sometimes you do have to invest money to increase sales, be it in advertising, PR help, a wholesale rep, an affiliate program, a web designer, etc.
You could spend all day long posting on Craigs List and flyering your neighborhood, and while this may not pull much cash straight out of your pocket, it may not put any in there either and now you've wasted your time, thus costing you money. Keep in mind that lots of successful businesses got that way by taking out business loans or working with investors, so they could afford to set up their operation properly, they probably didn't rocket to success with zero budget.
It's important to look critically at "free" marketing and see if it's really free. If guest blogging takes up 10 hours/week and gets you only 5 orders as a result, and you think your time is worth $20/hour, you just spent $40 to get each order. You need to compare that with other marketing options like Adwords, where you can maybe get orders for $10 per conversion. You also need to track the lifetime value of marketing efforts and consider the true value of your marketing efforts so you can compare apples to apples.
5. Refusing to Outsource
Trying to do it all yourself may not be the most cost-effective way to run your business. Are there things you can outsource to a pro who can do a better job than you? Are there tedious simple tasks you can outsource to an unskilled worker?
Think about all the stuff on your to do list and see which items you might want to get someone else to do. Then see if you can get an hourly freelancer to take on some of your tasks, thus freeing you up to work on more important aspects of your business.
This content is copyrighted. See my content sharing policy here.