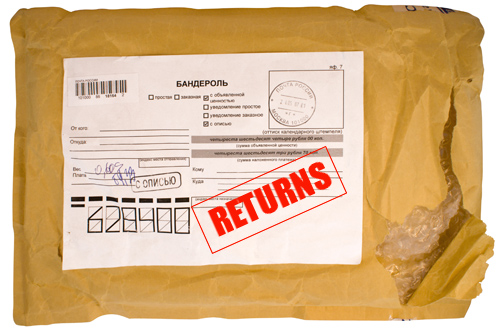 I just had the WORST experience with returning products to overstock.com. I was in complete awe of how painful they made the process. I'll never shop there again as a result. As an ecommerce business owner, this also inspired me to make my own website's return process even easier for my own customers.
First, let me tell you what overstock.com does wrong:
1. I have to log into my account to initiate a return. This means I have to remember my username/password or retrieve it. As I've discussed on this blog before, having to create/use accounts with ecommerce websites is a common peeve with online shoppers. That said, this hassle is a common one so it wasn't high on the list of reasons for my disgust.
2. Once logged in, I had to click the "returns" link. Then I had to select the order I wanted to do a return for.
3. I got a screen where I had to select the item I wanted to return. This was the first major problem. I wanted to return more than one item and the form they'd created only allowed me to select ONE. I selected one of the items and clicked submit.
4. I got a screen asking the reason for the return and several radio buttons to choose from. I chose an option and clicked submit.
5. I got another screen asking for a more specific reason for my return and more radio buttons! I chose one and clicked submit.
6. I got another screen asking me to write out, in a text area box, why I wanted to return the items!!! (I've now been asked 3 different times why I'm returning merchandise, and it's been on 3 different pages! If I had a dial up modem I'd probably have lost it by now.) I wrote a note and clicked submit.
7. I got a screen asking me if I wanted to print a pre-paid return label for $6.00. (My credit card would be charged for this label.) This, of course, won't work for me, because as I said before, I had several items to return and this pre-paid label would only take postage into account for the ONE item. So I selected "no pre-paid label" and clicked submit. I then got another screen asking if I'm sure I don't want a pre-paid label. The page went on to tell me why pre-paid labels are awesome. I already know I don't want the damn pre-paid label, so I say no.
8. I finally got a screen with instructions on where to mail my return.
That's an awful lot of steps to return something! Not only that, I have to repeat steps 2-8 for each item I want to return!!! I had 6 items to return. Needless to say, I never want to look at overstock.com again. I am sure the thinking over at overstock.com is that if you make returns really miserable people won't want to make returns. I am sure they also think a lot of people are unsavvy enough to pay for a pre-paid label for each item they want to return when they have more than one item to return. No doubt that return postage is a profit-center for overstock.com. This short-sighted thinking turns off customers though. I spend thousands of dollars online every year at ecommerce sites and buy nearly everything I own online. Turning away customers like myself is probably costing overstock.com more than they're making from their nickel and dime return postage scam.
Now, the good news is that this nightmare of a returns process encouraged me to improve my own return process for my ecommerce website. Being a small online business I'd been doing things pretty informally. If customers wanted to return something they just had to drop me a line for details on where to send the return. My online business has more than tripled in the last year though, and it's high time I made things a little more streamlined. This overstock.com debacle was just the kick in the ass I needed.
Here's what I now do for returns:
1. I set up an easy-to-type URL for my returns page on my website. (I used myurl.com/returns.)
2. I made my returns page easy to find. I've linked my returns page on the footer of my site, added the URL to our invoices that go out in our orders, and linked it on the "returns" portion of our FAQ page.
3. My returns page simply asks customers for 4 pieces of information (all on one screen). I request:
– Order ID
– Whether this will be a return or exchange
– A quick note on reason for return/exchange
– How the customer would like their refund issued (I allow customers to select gift card, credit back to the purchasing account or refund to an alternate Paypal account. The first and last option are to accommodate people who received their order as a gift.)
4. Once the customer clicks submit they get a page with our returns address and instructions.
This process is quick and easy for my customers, and it gives me all the information I truly need to handle returns. Making returns easy for my customers makes it much more likely that they'll order from my website again in the future.
If you sell on a site like Etsy or ArtFire you can still set up something like this for your customers. I truly believe that anyone selling online should have their own website, even if it's just to house your portfolio, contact information and a link to your hosted web shop. You can set up a returns form on your website and include a link to it on your packaging invoice.
This content is copyrighted. See my content sharing policy here.