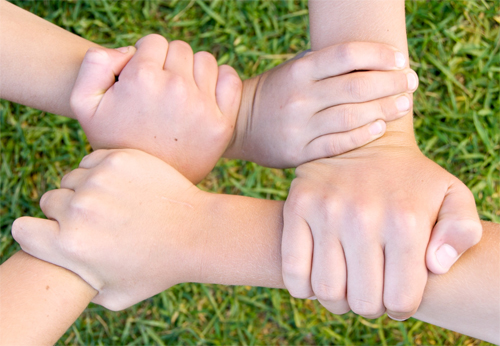 Yesterday I talked about how a lot of inexperienced ecommerce business owners discount the importance of what I call 'secondary conversions' (newsletter sign-ups, Twitter follows, etc). When I talk about secondary conversions, I am referring to any action a site visitor takes to express interest in your brand, other than making a purchase.
I also talk a lot on this blog about conversion rate optimization. Usually I'm talking about ways you can optimize your web presence to increase sales (primary conversions), but today's post is about what you can do to also encourage those secondary conversions.
Have Your Own Website
I will be saying this from now until the end of time. You simply cannot score those secondary conversions without your own website. You might get a few, but you'd get a zillion times more if you had your own website. The reason is simple. Etsy (and other sites like it) won't let you put live links to your Facebook or newsletter on your shop page, so even if you share this info, customers have to copy and paste the URL. Most people will not do this. It's too much effort. This means you need your own site with links to things like your Facebook and blog.
Motivate 'Em
It's not enough to just have a sign-up box for your newsletter or a link to your Facebook. You have to give people a reason to engage and let them know what to expect. You'll see on the top right side of Smaller Box we have a newsletter sign-up, and the short but sweet copy indicates what the newsletter has in it and how often it goes out. That quells concerns about getting too many emails or getting emails with no relevant information.
If you've got a blog, have an "about" snippet that indicates what type of content you post. If you have a Facebook page, have a "new fan" landing page that tells visitors what they'll get from becoming your fan. (Pre-sales, coupon codes, collection sneak peeks, etc.)
Some brands offer an instant discount code when people join their mailing list. Some brands automatically enter their Twitter followers in a monthly giveaway.
Whatever your plan is, make sure you clearly explain incentives for engaging with you and make sure it's clear how often your fans will hear from you.
Make It Easy and Accessible
Make it easy to connect with you. That means having links to things like your blog, Facebook, Twitter, Youtube, etc. on every page of your site, preferably above the fold. (You can see examples of this here on the top left.) Many visitors won't be coming to your site via your home page, you can't expect having secondary conversion opportunities on the home page alone will capture everyone.
I recommend that you use a sign-up box, rather than a sign-up page (as I've done on Smaller Box). That way people can enter their email from any where and automatically be added to your list in one step.
Use widgets like AddThis, so customers are reminded to share your content. You can also install Facebook's "like" widget so people can share your pages with just one click, and without leaving your site.
Preach to the Converted
If you already have people engaged in one type of conversion, it's easier to get them engaged in a second one. This means you should link your social media profiles in your newsletter. You should ask your Facebook fans or Twitter followers to join your mailing list.
Your "welcome to my list" email should contain links to your social media profiles and blog. Your check-out process should have a check box that lets customers sign up for your newsletter.
As you integrate all these different communication streams, you increase your visibility with people who already are forming a favorable opinion of your brand. Each connection represents another opportunity to get those customers to make purchases at a later date.
//
This content is copyrighted. See my content sharing policy here.