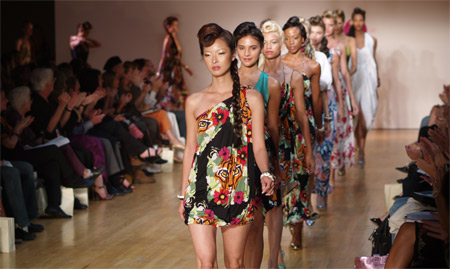 Image by Art Comments
Here and there you'll see debate crop up about whether customers want to see human models on websites or in product photos. The naysayers will usually have a germaphobic argument about not wanting to buy something another human touched/wore/looked at/etc. There are definitely those people out there but it's probably not most people. After all, most of us buy clothing in stores that's been tried on by other customers, so we're used to the idea that someone else may have had an item on before we purchase it.
If you sell something like earrings or underwear, it makes sense that customers might be wary of buying that type of item if it's been worn. In those cases, you can still use a model, just be sure to indicate to customers that the item they'll receive is not the exact item in the picture. (Chances are you won't even have to make a note of that unless you sell on a site like Etsy. We all know when we shop on the Victoria's Secret website that the underwear on the model is not the exact same item that we'll get in the mail. Otherwise VS might have a very different kind of customer base.)
So why do I advocate for using human models? Two main reasons:
1. Scale and Fit
If I see a pair of dangling earrings sitting on a white background it may be hard to imagine how they'll look on a person. Even if you tell me how many inches long they are, it helps to see the earrings in an ear so I instantly understand if they'll dangle down to my shoulder or my jawline.

If I see a tote bag on a chair it might be hard to imagine if they bag is going to just hold a loaf of bread and a bag of oranges or if I can fit my entire haul from the farmer's market in there. I can get a better sense if I see the bag slung over a human shoulder.

Clothing should be a no-brainer. Unless a model is wearing it, I can't tell if the dress comes to just above the knee or all the way down to mid-calf. I can't tell if the empire waist is fitted or loose. A mannequin might solve some of those problems but a mannequin probably can't address point number 2, below, speaking of which…

2. Lifestyle/Relatablity
Human models help customers identify with your brand. A customer wants to feel like the product they're buying is made for someone just like them. Stores like Talbots and Forever 21 might both sell plain white tank tops this summer, and if you saw them photographed on a mannequin they might be almost indistinguishable. We know those stores have radically different audiences, and part of the way they signal to consumers who they're trying to woo is models.

If your target audience is a preppy looking, all-American, clean cut bunch use models that look like that. Pick models that are your customers' age and share your customers' style. If your brand is edgy and punky you might want models with blue hair and nose rings.

A couple of weeks ago I wrote an article on the importance of using visual cues to help increase your brand's affinity with your target market. Your choice of models can be extremely helpful in this regard.

Also make sure that the models you choose have the same body type as your target audience. If you sell plus-sized items use plus-sized models. If you sell fitness items, use athletic models. If you sell maternity, make sure your models look pregnant. Even if you sell something like skin care items, incorporating a happy looking model in a bathtub into your web design can help sell the idea that your product is enjoyable.
So, all this talk of models might seem intimidating. How do you find them and get good shots of them? Here are a few places to look.
1. Friends and Family
Use friends and family ONLY IF they'd be an appropriate choice as models for your brand. If they would be, this can be a pretty inexpensive route to go.

2. Craigs List
You can find just about anything on Craigs List, including inexpensive models. You might not get professionals but you don't necessarily need that. An aspiring model might be willing to work for a fairly low rate to help build her portfolio. If you aren't confident in your photography skills, you might also find photo majors at your nearby university willing to do the work at a lower rate than a professional photographer. Keep in mind that you'll get what you pay for so if you need things to be perfect, consider working with pros. If you're willing to take a chance on people that are new to modeling or photography you can probably save some dough this way.

3. Stock Photography Websites
Sites like istockphoto.com have a large assortment of photos that you can use for product images or website design. If you need a picture of a baby in a generic looking bodysuit or a girl in a bathtub, this option may be your best bet. You probably will have to sift through a lot of images to find images you want to use, but if your needs are fairly generic this is definitely the cheapest and easiest way to get pictures of models.
This content is copyrighted. See my content sharing policy here.