Most of us can agree that the online shopping experience starts with the package. If you want to impress customers, a beautiful package or fun little surprises enclosed can go a long way. A lot of the craft community is big on doing elaborate handmade packaging. While these packages are lovely, it is difficult to make this kind of packaging cost effective and scalable when order volume increases. Last week I talked to 4 retailers who've found streamlined and cost effective ways to ship a large volume of orders in style. Here's what they had to say:
Sarah at Wild Gems ships her jewelry in custom bamboo boxes:
"It was very natural to put the jewelry in a nice box.  Jewelry is often given as a gift, and presentation is very important.  Think about how it feels to open up a small fine box to see what's inside – it's not just packaging, it's an experience.
The values of Wild Gems are to use real, lasting, valuable materials – this applies to packaging as well as jewelry.  I looked at wood, metal and bamboo boxes versus paper, cardboard or simple cloth. I wanted bamboo so I looked in Southeast Asia where bamboo is grown and the craft of manufacturing with it well established.  Once I found those manufacturers, I made a deal to buy a minimum of 1000 pieces in order to pay less per box.
The box is important in our marketing in many ways.  The most important, I think, is brand recognition. The box doubles as a display for the pieces so wherever people see Wild Gems (on store shelves, online, and in jewelry shows) they can see many bamboo boxes together and even from far away, they know it's us.  We also emphasize that the great box makes it so easy to give a great gift.
The investment in a premium box is worthwhile.  I feel that the experience the customer has in receiving and opening a fine box is valuable.  There is also a benefit in shipping – the box is strong and hard and prevents damage to the jewelry.  The percentage of the cost varies, as some pieces are more expensive than others;  I would say on average, it is about 5% of the price the customer pays.  We didn't raise prices [to cover this cost]. We might have slightly lower margins than our competitors who ship in paper boxes, but that's okay with me.  My jewelry is precious: I won't present it in cheap cardboard."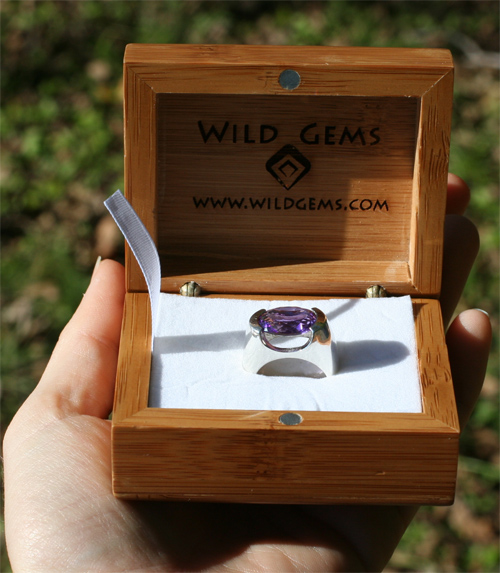 Marty at Elephant Surf Media ships using stickers and custom tape:
"U-Line is an awesome resource for all things packaging, including the boxes and custom tape.  As far as stickers and promotional stuff, google returns millions of options, it's just a matter of finding the one that suits you best.
We do not market our packaging as a benefit to customers, mainly because no one buys something just because it arrives in a cool box.  We just want our customers to see how much detail and care we put into everything we do, and getting a cooler than normal package in the mail is just one way we do that.
The additional cost per package is not too big, really.  Besides, saving 50 cents on each package is not worth making our customers think we're cheap asses with no style."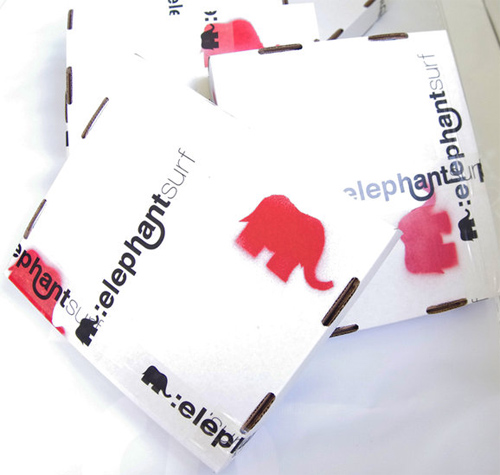 Nick from Shirts That Go! ships using custom printed boxes:
"Our company is quite small and only a few years old.  We wanted to put our best foot forward with the packaging so that it had real impact for our customers. We wanted a card box because it is lightweight.  Our end customers are all kids and toddlers and these guys love getting mail.  We decided to put our designs on the packaging for a real wow factor.  We wanted for a gift from ShirtsThatGo to begin at the mailbox."
To find a manufacturer, We mainly used the search engines.  I had to be really persistent with this.  I contacted at least 20 suppliers and they all told me that it was not feasible for a small company to afford full color packaging.  Most of them quickly pushed me over to other ideas like plain boxes with custom stickers etc.  I did not let up on this idea though and found a great company (USA based) that wanted to work with me and make me a happy customer of theirs.  They have been printing boxes for us for a few years now and they do a great job.
Currently a custom box adds about $2.00.  We include the custom boxes on orders of 3 or more shirts and we offer a way for folks to add the box at checkout on smaller orders.  Custom packaging has been part of our offering since day one so it has always been in our model."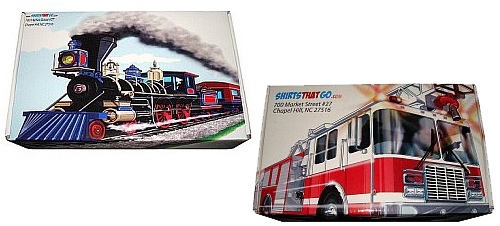 Megan from 1st Person History ships using simple kraft boxes with brown kraft ribbon and printed labels:
"The packaging for our 1st Person History Kits were not meant to be "innovative", it was born out of necessity for boot-strapping our little start-up.  However, it turns out our customers love the packaging. We use simple kraft boxes with brown kraft ribbon and printed labels.  Inside the box, our kit is wrapped in kraft colored tissue paper and bound with brown paper ribbon, closed with a sticker with our logo. The box itself is wrapped in ribbon and the label on the box holds it in place. This way we seal the box without having to use any plastic.
Cost for our small scale operation was our number one concern. We began by simply searching for vendors with small minimum orders to see what different products were available. The criteria we used were 1) will everything fit in the box, 2) will the box fit in the USPS Priority shipping boxes, and 3) is it recyclable. Google search and ThomasNet.com were our lifeline to finding a variety of vendors and whittling them down to companies that could  provide us with low cost, low quantity orders.
Once we found the right box, we needed a way to make it look presentable without huge printing costs. With a kraft box, we achieved a very simple, earthly look that did not need a lot of embellishment. We wanted to stay away from plastic, so tissue paper and paper ribbon were what we were left with. It all came together beautifully with a cohesive, elegant look. We stuck with unbleached paper products, using kraft colored products when possible, and accented it all with a dark brown paper ribbon.
We used this package design from the beginning – with our very first order. Other than switching to a sturdier box, not a lot of re-design has taken place. A large number of our customers write to us just to comment on the packaging, and how they appreciate the care we take of the product; it's reflected in the packaging. The price per unit for packaging is less than 2% of our cost, which we are happy with and see no need to improve on just yet."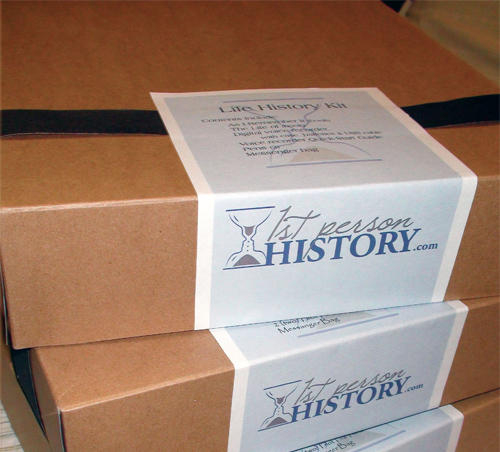 Final takeaways from our savvy entrepreneurs:
1. Be creative about your shipping ideas.
2. Order shipping supplies in bulk for best pricing.
3. Comparison shop, a lot! Dig into search results beyond page 1 to find the best vendors. If you know what your want your shipping materials to be, keep looking until you find a vendor/manufacturer who can give you what you want.
4. Presenting customers with a memorable package is an investment in your brand.
This content is copyrighted. See my content sharing policy here.