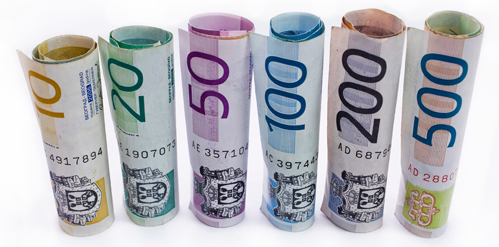 If you sell a product to wholesale customers, you'll routinely be expected to offer net 30 terms. (This means your customer doesn't pay for the goods until 30 days after you've sent them out.) This can be a real strain for a small business, since at any given time you may be owed tens or hundreds of thousands of dollars that you can't collect for weeks. Meanwhile, you might need to pay rent, production expenses, employees, etc. How can you survive with net 30?
1. Get terms from vendors
If you have good credit and a working relationship with suppliers and vendors see if you can get net 30 terms from them. (For example, if you buy blank t-shirts from the same supplier all the time, see if they offer net 30 terms.) This buys you some time to collect on the cash owed to you. While you might still have to pay the suppliers before you collect on the invoices owed to you, the gap in time will be smaller.
2. Sell your invoices or get PO financing
There are companies that specialize in fixing this problem for businesses. They will loan you money to finance the production of an order (Purchase Order financing) or buy your net 30 invoices from you. Imagine you did a trade show and Bloomingdales wants to buy $100,000 worth of product. Let's say producing the order will cost you $60,000. If you don't have the $60,000 you need you can turn to PO financing. They will lend you the $60,000 and when you get paid by Bloomingdales you pay back that lender. This of course means you're paying interest on that loan, so instead of netting $40,0000 you might net 35k or 37k (depending on the terms and interest rate). You'll want to keep in mind that in order to get PO financing you'll need good credit.
Another thing you can do is sell your invoices. There are companies that will buy a net 30 invoice, pay you up front and collect on the invoice when it's due. Again, you are giving up a portion of the value of that invoice to do this, but it's a way to get cash right away if you're strapped.
3. Early payment incentives
You might be able to get your customers to pay their invoice before the invoice is due if you give them an incentive. You can offer a deal like 3% off for paying within 7 days, 2% off for paying within 14 days and 1% off for paying within 21 days. Not all customers will go for this, but some will and it gets you paid faster. Again you are giving up some income to get paid faster, but sometimes this is cheaper or more viable than the alternatives.
4. Personal credit
If you're totally strapped and you can't get paid fast enough falling back on personal credit is also an option. Check your credit cards to see if any have a low or 0% APR balance transfer option. This would allow you to pay for the production of an order with credit card A, balance transfer to credit card B and then pay off credit card B when the invoice is paid. (Still a better deal than paying 18% by just leaving the balance on card A.) Make sure you read all the fine print before attempting something like this so you aren't hit with unexpected expenses.
You might also be able to draw cash from a home equity line of credit if you qualify. Interest rates for that cash are typically low and any interest you pay is tax deductible in the US.
This content is copyrighted. See my content sharing policy here.