This past weekend, we did our first live event in several years. We don't really like doing live events all that much. They're a lot of work, they tend to be on weekends when we'd rather not be working, and they are exhausting. That said, we've decided they're a useful tool for growing our business and meeting our customers, so we've decided to bite the bullet and start doing them. This past weekend we sold our tees and messenger bags at Art Star in Philadelphia.
Now conditions this past weekend were not ideal. The weather was gloomy and rainy, even pouring at some points. Our booth flooded. The turn out wasn't what it would have been, had the weather cooperated. All of that said, we sold thousands of dollars in tees and bags, in just 14 hours. How did we do it? Here's what worked:
1. Have an eye catching booth
One thing we noticed about this event, was that we felt like we were surrounded by a sea of white. Pretty much all the tents were white or beige. Many of them didn't have much going on in the way of signage. At an event where everyone's attention is split in a zillion directions, a color scheme that matches the scenery can be a real impediment.
The good news is you can order canopies, displays, table cloths, etc. in a variety of colors. So think about the colors associated with your brand and consider brightening your booth with bolder colors and larger, enticing signage.  Ideally, a large bold banner at the top of your booth should display your brand name along with a short punchy tagline about what you do.
At Ex-Boyfriend, our brand colors are red, white, and black. So we got a red tent and a big bold banner in black white and red featuring our company name, pictures of our most popular characters and our tag line "clothing that starts conversations" From across the courtyard, our booth stood out simply due to colors and signage.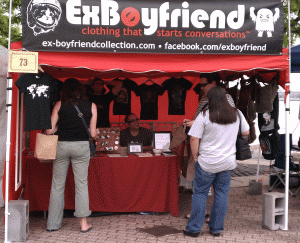 2. Be Friendly
This sounds like a no-brainer but I can't stress this enough. If you want to make money at these events, be sweet and friendly to every single person who comes up to you. I don't care what they look like, I don't care how they are dressed, I don't care how old they are, I don't care how sure you are they won't buy. BE NICE! Be sweet to grandmas, be sweet to toddlers, be sweet to guys who look like they're in Hell's Angels. People will surprise you. Everyone is a potential customer and if you treat them like they're already your friend and start chatting with them, they are more likely to actually become a customer.
When we saw people checking out our booth (and a lot of them did since we had a colorful display), we said "Hi! How are you today? Feel free to come on in and have some free candy and look around". We said this to every single person we saw. And we sold products to people we might never have expected to sell to. People who looked nothing like what we had in mind as our regular customers. Some were buying gifts for friends or family, some were just people who surprised us.  We treated every single person we saw like we were happy to see them, because we were. No one was taken for granted. (If you click the candid photo above, you can see a larger version. Notice the body language and facial expressions on both the customers and our booth crew — everyone looks relaxed and happy, like they're chatting at a party.)
If you think I'm belaboring this point, then listen up. The most telling thing I heard all weekend was this (from a mom shopping with her small children): "This is the best booth here this weekend. You guys are so nice. You're the only ones who are smiling and said hello to me. Everyone else here is just scowling and acting like they are too cool to be bothered with me. You guys actually are cool." No customer should have that experience at an event. I felt bad for her, embarrassed by the other vendors, and thankful that our crew brightened her day.
During the weekend, my friends and I took turns going on breaks and checking out other booths. I won't say people were mean, but I didn't find one other booth giving out the kind of warm reception we had at our booth. Not a single vendor even talked to us, unless we were buying something.  I am not at all suggesting you hard sell people. But making them feel welcome and comfortable, like they're among friends, is going to make a huge difference in your conversion rate.
I think it also helps to work at your events with friends whose company you enjoy. If your booth crew is genuinely having fun, people are drawn to that. The more fun energy you can generate in your booth with your crew and customers, the more people you'll draw.
3. Have freebies
Free stuff is a great for several reasons. It draws people in, it starts the conversation and it gives people something to take with them to remember your business. We had very nice glossy postcards printed with a popular print from our collection on the front and a promo code on the back. Everyone walked away with a free miniature print and our web address and a promotion code. The postcards we made didn't look like ads, they looked like small art prints, making it more likely that customers would hang onto them, instead of throwing them away. We also gave out free candy at our booth, which is a great way to get people to approach and start chatting.
4. Put best sellers front and center
Although we sold some of everything at the show, we had particular items we sold out of entirely. They were hot items that everyone wanted. We made sure they were at the front and center of our display, because they drew people into our booth and got people talking about our products.
5. Take online orders
It's impossible to guess exactly how much of something you're going to need to take to a show, so have a back up plan for running out of hot sellers. We brought our laptop to the event so we could take orders. Anything that was sold out we offered to ship to our customers' homes free of charge. Whatever money we lose on shipping, we chalk up to customer acquisition costs and don't sweat it.
6. Have an email sign up
Be sure to have a notepad out that customers can use to leave their email address. When you go home with your new list, send those customers a custom email welcoming them to your list and thanking them for visiting your booth at the event. Remind them of any special offers you've still got running related to the live event, so they feel encouraged to place an online order, even if they didn't buy something at the show.
7. Have purchase incentives
There's a reason people selling cars throw in things like free maintenance for 1 year or 0% APR. These little sweeteners can move a customer from undecided to yes. You want to do the same thing at your booth. Consider offers like free gift with purchase or discounted pricing for buying several items. These offers encourage people to make purchases and make larger purchases.
8. Learn from your customers
As you sell at an event, take special notice of who you sell a lot of product to. Are most of the people handing you cash moms, teens, lesbians, dog owners, etc.? This is a really important thing to notice because it can give you ideas about who to market to when you're planning your marketing efforts. You might uncover a new niche market you haven't catered to before, that loves what you do.
Also pay attention to what people ask for. Do they want to know if your products come in a certain color. Do they want to know if it comes in a certain size or with certain features? These requests can help you shape your product development efforts, so take notes on what people are asking for.
9. Have a big mirror
One of the friends who came to this show with us loves hats. He was checking some out at a booth that only had a hand mirror. He ended up not buying because he couldn't see himself well enough in the hats to decide if he wanted one. If you sell something people are going to wear, even if it's jewelry or bags, bring a full length mirror. If people can try something on and see themselves using or wearing it, they already start envisioning owning the item and are more likely to buy it.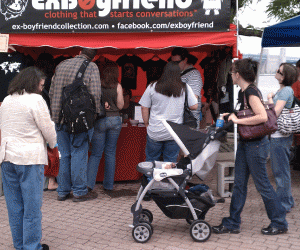 Don't forget: Crowds and and a fun atmosphere attract more crowds, the photo above was taken shortly after the first photo featured. As pictured above, the number of a our visitors doubled in just a few minutes.
This content is copyrighted. See my content sharing policy here.