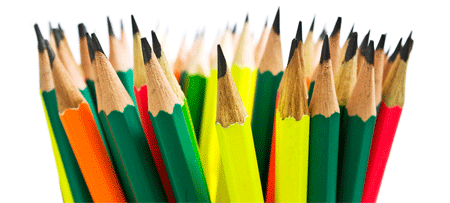 Most business websites will talk at you endlessly about online marketing. How to do advertising, how to do SEO, how to optimize for mobile, etc. Let me preface what I'm about to say with this: These are all worthwhile things. You absolutely can see tremendous benefits from all of these tools and it's good to know about these things and understand how to use them and why you might want to invest in them.
Now all of that said, in the last 6 months I've paid a lot less attention to online marketing. I haven't spent a ton of time on our SEO, I haven't been running a ton of ads, I haven't been desperate for more Twitter followers. Despite this digital neglect our company has grown tremendously this year (even though we focused on those things more in previous years).
What the heck? How are you growing if you're not blowing up the internets with your marketing?!
When 2012 started my partner and I talked about what we wanted for our business and none of the things we said had anything to do with the internet. We said "I want to be on TV/movies, I want to do events and I want to be in the fucking mall". (We say "fuck" a lot around here.)
Just about all businesses have limits to their resources. The bigger you are the higher the limits are, but we pretty much all have them. We didn't feel like we had the resources to do everything under the sun to grow the business so we settled on picking 3 things that we were going to hammer away at this year and really focus on them. That meant backing off some of the resources we'd sunk into online marketing in previous years.

Why did you pick those 3 things?
We really have one primary driver in our business, we want to be famous. We want everyone to know and love our brand. We want to be everywhere and have an army of loyal fans. So we had to pick priorities that served that goal. We didn't just want sales, we wanted converts.
Wholesale was definitely our top priority this year. We picked it because we know when people see our products they fall in love. Our reasoning was the more stores carrying our line, the more people will see the products and fall in love and the more products we'll sell. We felt like there was no substitute for being able to see our products up close and touch them and try them on.
Events were priority two, but the thinking was the same. If we just show up at festivals and comic cons and other pop up retail events and set up shop people are going to buy the heck out of our products.
Both pop up retail events and being in stores offers immediacy with the product that selling online doesn't offer.
The media placements were our third priority, and we chose that as a priority because we wanted to create a sense of legitimacy around our brand that would appeal to wholesale buyers and consumers. We wanted to make people understand that we're a real brand. We're in the media, we're on your favorite TV show, we're in stores! We are not fly by night hobbyists working out of our mom's basement.
What happened to your online sales and overall revenue?
While overall revenue increased quite a bit this year, online sales didn't grow a ton. We definitely made more money via pop up events and wholesale. We still made money with online sales but it wasn't our primary source of income like it had been in previous years.
Should I ditch online marketing too?
I wouldn't say you should scrap online marketing altogether, we certainly didn't. I will say you should pick three things for 2013 that are priorities for you and think carefully about what those things should be. Maybe online really is a goldmine for you and you should boost your efforts with online marketing. Certainly don't choose to stop focusing on digital marketing simply because you don't like it. What you focus on should be dictated by what drives revenue and growth for your business.
Pick your top goals for 2013 and let that dictate how you'll spend your resources.
This content is copyrighted. See my content sharing policy here.