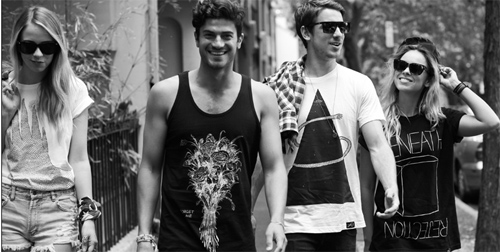 Today I'm chatting with Georgie Hartigan of Beneath Rejection, a clothing line based in Sydney, Australia.
Tell us a little about what you do, how you got started and what your growth has been like since you started your business.
My name is Georgie Hartigan and I own an independent clothing line, Beneath Rejection. In 2012 I finally built up the courage to launch my humble label. Three years later, and Beneath Rejection has grown faster than I ever imagined.
I literally started BR as a pipe dream, a side project I guess you could say. It was something I was just doing because I loved fashion and design and I knew how hard it was going to be to compete in the over-saturated apparel industry, but I was determined that this was something I would make happen.
When launching, I knew that I wanted to create a brand that could deliver a really personal experience to the buyer, and to do that I decided right off the bat that I would only ever sell through our own website and completely avoid retail. It was a gamble, but it's paid off. I knew that there would be people out there like me that wanted more from their shopping experience than just walking into a shop and handing over their cash, and since then the challenge has been putting those people in front of my website.
Choosing to go down that path has definitely been hard, but it's created the Beneath Rejection family – people who are passionate about the brand and do most of the marketing for me by spreading the word to their friends and family. That's how Beneath Rejection has been able to grow so quickly. It's humbling to know that people are wearing my shirts across the globe, and I'm so grateful for that.
You have some cut and sew items for sale like button downs and jackets, what was the process like for having these items made? Did you work with a manufacturer and, if so, how did you find the right manufacturing partner?
My vision for the label has shifted to creating clothing that people can wear everyday, and that meant branching out and getting into the cut and sew area. Before I went down the path, I did a lot of research and spoke to other brand owners about their experiences with overseas manufacturing.
I am a perfectionist when it comes to the label and give everything extreme attention to detail, so I decided that I couldn't take the chance of compromising the quality of my products. I actually flew over to Vietnam, designs in tow and found a tailor I had used before. We sourced the fabrics and I oversaw the whole process, checking each item myself for quality. As for the jackets, that was simply a matter of ordering vintage denim jackets from a collector I came across last year and having the panels hand sewn by a friend of mine.
How do you go about getting your product in front of retail customers? Do you mostly sell online or at live events? What are some direct-to-consumer marketing tactics that did or didn't work for you?
Since day one, Beneath Rejection has been sold exclusively through it's own website. Selling online is hard – the market is literally flooded, and just like in retail, the small brands are competing with the advertising budgets of the super brands. If you're patient and invest the time and energy into getting people in front of your site, online can really work in your favour.
In terms of marketing, I've found the most successful tool to be word of mouth and social media hype. Creating share competitions on Facebook and Instagram has proved really successful allowing the loyal Beneath Rejection customers to share with their friends, hugely increasing the market base. And the best part is none of that costs a cent.
What would you say is the most valuable thing you've learned since you started your business?
The lessons keep coming everyday I'm in this business, but there are definitely some things I've learnt that are invaluable.
+ Change your mentality from looking at other labels as competition. Work together to promote your industry and help establish a larger market for everyone
+ Be nice. And be honest. It sounds simple, but people buy from people they like.
+ Focus on building genuine relationships with your customers. After all, what makes the indie industry so great is that customers can engage with your label on a personal level and you would be nowhere without these people.
Tell us about a difficult period or big mistake you made with your business. What went wrong and how did you recover?
When I first launched, I had so many things planned for the future of the business. I launched into it all with those big ambitions and ended up going seriously over budget. Within the first 3 months of launching I was in debt and thinking I'd have to throw it all in before Beneath Rejection had even had a chance to grow. I wasn't getting the sales I had anticipated, and found myself struggling to keep optimistic and driven.
I decided that I wasn't going to quit, I was going to take my mistakes and turn them into lessons and move forward. I realized quickly that although it's great to have plans for your brand and a big-picture view, it's important to take things slowly and not to spend outside your budget. If you can't afford certain elements like custom hang tags and packaging, add it to your future plans and build up slowly. I started putting all the money I made straight back into the business, and took my time adding elements as I could afford them.
If you had to start over from scratch with a new business today what would you do differently?
If I launched another start up, I would have a closer eye on my budget by spending more time creating a marketing plan specifically suited to my target market. In the past three years I've spent a lot on unnecessary money on advertising and publicity that has been dramatically less effective than free social media campaigns. It's about knowing your customer well enough to know where they go and where they are and ensuring that you put your brand in those places and in front of them.
This content is copyrighted. See my content sharing policy here.