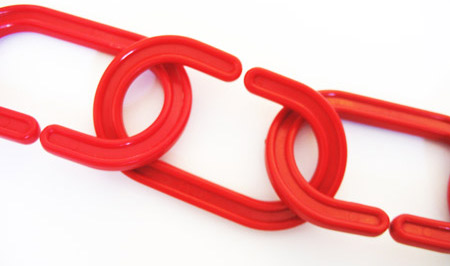 If you're an old timer, you may remember back in the day when indie artisans used to trade links. You'd create a page of links to indie shops and trade links with all your friends who sold online. A zillion years ago, this was an okay thing to do. By today's standards, this practice is over. Search engines have become wise to these spammy pages and humans don't have much interest in them. This doesn't mean you can't/shouldn't trade links with other designers. It just means you should change how you do it. Link building is still a very important part of SEO and getting links is a great way to get seen. It's just important that you make your link building process organic and useful to the humans who visit your website. Below are a few ways to trade links and cross-promote in a modern and more effective way. These techniques carry SEO benefits and have a more natural presence on your website or blog:
1. Guest Posts
If you have a blog for your online business, one thing you can do is allow friends to guest post. You can also write guest posts for them. In the guest post it makes sense to link back to the author's website. This is better than a plain old link exchange because it's a more natural way to link off-site and it generates content.
2. Designer Spotlight
Design blogs like Modish and Creature Comforts do almost nothing but spotlight the work of various designers. While your own blog should mainly be about your work or things that interest your readers, there's no reason you can't do spotlight features on designers you know or are inspired by. Like guest posting, these posts create content and are a more natural way to spread the word about other designers.
3. Style Guide
When you flip through your favorite magazines, you'll notice they do inspiration boards that highlight trends. They might do an inspiration board based on gifts under $10 or summer footwear. (See an example here). You can do something similar with your blog. Talk to some other artisans about creating style guides or inspiration boards with themes and then use each other's products for content. Maybe you'd want to do a gift guide for moms or a spotlight on top winter wear. You can work with designers who sell products that are complimentary but don't compete with your products.
4. Contests
Co-sponsoring a contest with a fellow designer is a great way for companies to promote each other. Co-sponsored contests can have tons of benefits beyond link love too! You can use them to build your mailing list, attract Facebook fans and Twitter followers. The opportunities are endless. You can double your promotional power by working with a partner and get some link juice flowing in the process.
5. Collaborations
Design collaborations are a great excuse to trade links. If you make bags, you could have an illustrator design screenprint for your bags. If you make scarves, you could have another designer design complimentary gloves. With these types of ventures, it makes sense to trade links on your blogs and product pages. In the end, you score new and improved product offerings, plus new links that people will actually check out.
Further Reading: Everything You Ever Wanted to Know About Cross-Promotion
This content is copyrighted. See my content sharing policy here.