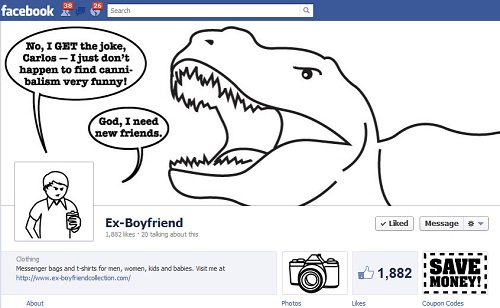 I just finished updating Ex-Boyfriend's Facebook page for the new "timelines" Facebook page format. If you haven't updated your brand's Facebook page for the new layout, don't delay. Facebook will automatically change your Facebook page to a "timeline" style page March 30th. This layout change is a great opportunity to infuse your Facebook page with a new look that reflects your brand. To get your page ready for the switch, here's what you'll want to do:
1. Create/Apply Cover Image
The cover image appears at the top of a timelines style Facebook page. You'll need to create an image that is 850 x 315 pixels. This image can be used to show off your products or the brand's sense of style. Once you've created the image click the "change cover" link to add your new image. (We put a giant T-Rex on our cover image.)
2. Create/Apply Profile Image
The profile image is a slot that already existed on your Facebook page. Just be sure you have a 180 x 180 pixel image in that space. If you want to replace your profile image, click "edit profile picture" to get to the screen to upload a new image.
3. Create/Apply Application Icons
Application icons are the buttons visitors will use to visit the tabs on your Facebook page. Your application icons should be 111 x 74 pixels. To add icons click "edit page" and then click "apps" on the left menu. Click the "edit settings" link under the tab you wish to edit. Next to custom tab image click "change". You'll be taken to a screen where you can upload a custom image. Click "change" again and upload your 111 x 74 pixel icon.
Not sure how to make your new Facebook timelines style profile awesome? Here are some really cool ways people have tricked out their new Facebook timeline style pages.
This content is copyrighted. See my content sharing policy here.