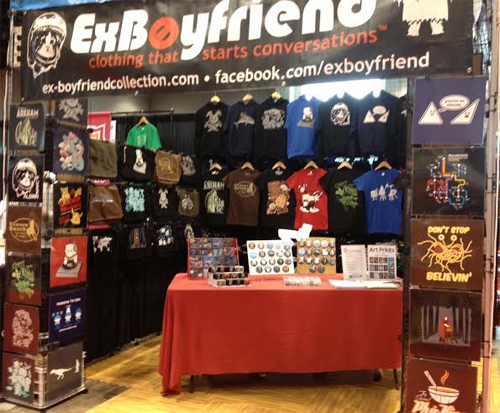 Pop up retail events are a major revenue stream for my company. We sell our products at all kinds of events such as street fairs, comic cons and festivals. A large part of our success with pop up retail has been booth set up. Here are some of the most important elements of our booth:
1. Awesome Signage
You can't sell products to people if they don't notice you, that's why an eye-catching outstanding display is key. Make sure your booth is tidy, well-merchandised and easy to browse. You want your customers to be able to see all the product options, pricing and the brand name itself pretty easily.
When we exhibit at shows we use a large logo banner in the front of our booth and display pictures of our best selling designs right up front. That imagery lures people into our booth and gets them to shop. Having our signage front and center means we can grab the attention of passersby and help them decide that they do want to stop at our booth. They don't have to get close to get an idea of what we sell.
2. Loss Prevention
It's a sad fact that sometimes people steal, and as a small business that can be a huge problem. It's a good idea to merchandise your booth in such a way that stealing from you would be hard. If you have products that customers can touch and pick up, make sure they are all within your view so you can keep an eye on them. For more expensive items you may want to have them in a display case so people can't pick them up and walk off. Sometimes when I do conventions other exhibitors have their booth so covered in products that they can't possibly keep an eye on everything, making them a target for thieves.
When we exhibit at shows we display our messenger bags clipped to the side of the booth so they'd be hard to grab and run off with. We keep our tees neatly folded in in shelves behind us so customers can't just grab them. We keep lower dollar value items like keychains and pins on our table, but that means fewer items on the table to steal and the items that are there are low cost items that wouldn't be a nightmare to lose.
3. Marketing Materials
Exhibiting at shows should be as much about marketing as it is about selling your product. We maximize our exhibiting experience by having a newsletter sign up at our booth and giving out fun free swag with our branding.
I've said this before but it bears repeating: do not give out swag that just has your info on it. People don't keep business cards or a vinyl sticker with just your logo (unless your logo is super awesome, like the Johnny Cupcakes logo or something).
When we do shows we give out vinyl stickers featuring our cute characters like Fuzz Aldrin. Our url is in the bottom corner but the focus is on the art and it gets people to take these stickers and keep them. They end up on skateboards, car bumpers, laptops and other places they'll get seen which is a great advertising tool for us. We also hand out funny comic strips that people keep and hang up at home or work.
We give out all this free swag that people are happy to take because it's cute and funny. We are happy to give it away because we know it will help them remember our brand. Even if they don't buy today they might buy in the future or send friends our way.
4. Well-Organized Inventory
When you're busy at a show the last thing you want to do is root around for inventory under the table. Having your inventory organized helps get customers in and out faster and helps you restock displays quickly.
We keep our shirts neatly folded in stacks sorted by design and then size so we can easily find a large mens Fuzz Aldrin shirt or a small ladies Unicorn Ranch shirt in a few seconds. We even organize our stacks of shirts by color so we know all the black shirts are on the right and all the jewel tone shirts are on the left.
Traveling with items like clear plastic storage boxes of varying sizes helps keep like items together and makes it easy to see what's in each box. Even separating like items by size or style into large ziplocks helps avoid digging around for things you need to find quickly.
Got some favorite tips for exhibiting at shows? Share in the comments below.
This content is copyrighted. See my content sharing policy here.