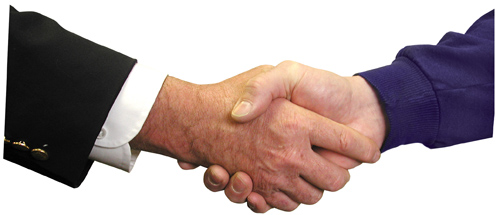 These days advising small creative businesses is almost as much of an industry as having a creative business. With so many options to choose from, it's hard to find the right person to work with. Today's post offers some guidelines for selecting the right person and making the most of your sessions with them.
Finding Mr/Ms Right
Before you can hire someone, you've gotta find 'em. There are a few ways to go about this. One option is to ask fellow business owners for recommendations. If you go this route, take recommendations from businesses that are somewhat in your own wheelhouse. For example, if you sell yoga attire, getting a suggestion from a company that sells incense and candles might make more sense than getting a suggestion from a company that sells software. This isn't a strict rule, but it's something to consider. Some coaches and consultants have a better understanding of certain target markets than others. If you're looking for general advice on how to improve, working with someone who has a history of reaching your target market can be helpful.
You also want to take suggestions from companies you admire. Personally, I wouldn't want to hire a coach suggested by a company with a shoddy looking website. It may not be their coach/consultant's fault, but it does make their recommendations less valuable.
Another way to find a coach or consultant is by reading their blogs. Most people in this line of work have blogs and it's a great way to gauge their expertise, areas of interest and personality.
What to Check Before You Work With Him or Her
You want to make sure your coach or consultant understands your need and can address them. You also want to make sure he or she is qualified. You may be able to gauge this from reading articles he or she has written, but if not ask questions. Coaches and consultants are NOT experts on all things, so you want to work with someone who has expertise on YOUR thing that you're working on.
Personally, I prefer to hire pros with personal experience or expertise in the area I'm looking for help. If I'm hiring a help for improving the wholesale side of my business, I want to work with someone who has either a. personally sold a ton of product wholesale to some very major retailers, b. coached/consulted with businesses who saw a large and measurable increase in their wholesale volume after taking advice from this person  or c. has worked on the retail side as a buyer and can give me an inside scoop on how to best work with retailers. I wouldn't hire some armchair philosopher who hadn't personally been in the trenches of doing what I'm trying to do.
Next, you want to find out who some of the person's past clients are and what they have to say about working with them. Are the clients at a level of success you aspire to? Do they attribute any of their growth to work they've done with this coach or consultant? Are they in a niche that has anything to do with your niche? (i.e. If you're hiring a PR consultant and you sell jewelry, are all her past clients non-profits and professional associations? If so, she may be great with associations and less savvy with a product line like yours.)
Lastly, try to get a feel for the kind of style the coach or consultant has. Is she a straight shooter or more of a warm fuzzy type? Which style do you think will be easier for you to work with? Does this person actually do legwork for you or do they enable you to do the heavy lifting yourself?
Making the Most of Your Time With the Right Coach/Consultant
The number one thing you want to know is what do you want to get out of this exchange? Do you want direction? Do you want to know how to create a line sheet? Do you want specific advice on how to improve your SEO? Do you want someone to re-design your website for you? Having a specific set of goals and expectations will help you ask the right questions, request the right services and help your coach or consultant perform the best.
You may not have something very specific in mind when you begin work with a coach or consultant. Maybe you just want to know how to improve sales or what next steps you should take to grow your brand. Be clear and honest about what you're looking for so you can get what you want and your pro can focus on your goals.
The next thing to consider is whether you're actually ready to work with a coach or consultant. Are you going to actually implement the suggestions he or she makes, even if it involves spending time or money? Are you going to work with this person over time if you can't get what you need in one or two sessions?
Have you successfully hired a coach or consultant? How did you do it and how'd it go?

This content is copyrighted. See my content sharing policy here.