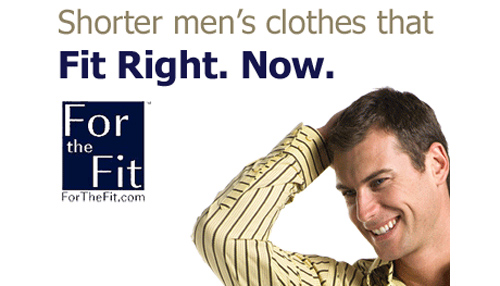 Consuelo Bova and her husband started ForTheFit.Com about their kitchen table 5 years ago. They've grown the brand into an empire that sources, designs and manufactures items that offer men and women of hard-to find sizes a better overall fit with modern style. Founded in 2005, the company initially focused on the needs of shorter men under 5'9″. Since then, the company has added other hard-to-fit categories for men and women, with more to come!
What made you decide to start your business?
We identified a hole in the marketplace that we thought we could fill. I was a newlywed when I discovered that I couldn't find clothes for my new, 5'7″ husband at any mall or department stores that fit "off the rack". Everything I bought required some level of tailoring and the results were expensive and often sub-optimal. I knew he wasn't the only 5'7″ man out there and wondered how everyone else handled the problem. We researched the marketplace and decided this was a business we should be in.
What factors do you think were most important to making your business a success?
An open mind and determination. You need an open mind to first identify the "problem"- or the type of business you want to start and how you might go about doing it. It probably won't be obvious, or there would be hundreds of other people with the same business. You also need determination. Just because your mind is open to this new possibility, doesn't mean anyone else feels the same way. Expect push-back from the most unlikely places- such as vendors or manufacturers you approach to build you products or sample. Vendors we approached to sell us clothing, for example, refused to sell to us because we were online-only or because we were only interested in small sizes. They didn't understand our concept at all and tried to "educate" us in the need to carry a variety of sizes or the need for customers to be able to touch and feel merchandise in a physical store location. Be prepared for resistance, but don't succumb to it or your business will never get off the ground.
What did you do to get the word out about your business when you first started and is this different than what you do now?
We overspent on traditional marketing means like print advertising, that just didn't suit our e-store model.
What are some of your most important marketing tools?
My customer service team and my customer list. Take good care of your customers and they will come back to you every time.
What is one thing you wish you'd known when you started?
I wish I'd had a crystal ball that could have confirmed we'd be going strong after 5 years- I would have slept much better that first year! I think a good dose of patience would have served me well.
Did you do everything on your own to get your business where it is today or did you hire help? If you hired professionals, what kind of professionals did you hire that had the greatest impact on your success?
I started this business with my husband. With our backgrounds in marketing, law and finance, we had most of our bases covered. As far as outside help that has really impacted the business positively, I would say 1) an accountant, and 2) graphic design assistance to build the initial website and logos. Learning to wear all the other hats necessary to make this business grow (fashion and design, web development, photography, customer service and sales, warehouse design and operation- you name it!)- that has been half the fun of growing this business! However, you do need help initially because you can't learn it all fast enough to get the business off the ground, so it helps to identify the biggest gap in your knowledge that is essential to kicking off the business but would take you too long to learn on your own ad hire outside help (in our case, a graphic artist).
What are your most important sources of information for growing your business? (A mentor, certain blogs, magazines, message boards etc).
I read a book just before I started ForTheFit.Com called, " Anyone Can Do It: Building Coffee Republic from Our Kitchen Table" (by Sahar and Bobby Hashemi, who founded the UK coffee chain by the same name). It was a funny and informative roadmap to the technical (and emotional) aspects of launching a new, entrepreneurial endeavor. In that first year, I referred back to it constantly, amazed at the parallels that kept arising between my own experience and theirs (and given their ultimate success, it gave me hope at every turn).
Are there any areas of online business you wish you had more expertise on?
Maybe the creative and technical side of things- programming and graphic design, for instance.
Do you see yourself changing your opinion on business advice as you're progressing in your own business?
Well, sure! With every year, we see new successes, but also make new mistakes and we are constantly growing and changing the business around these learnings. Over time, I expect the advice I give (as well as the advice I take) will grow and change, too (hopefully, getting better with each passing year!)
This content is copyrighted. See my content sharing policy here.