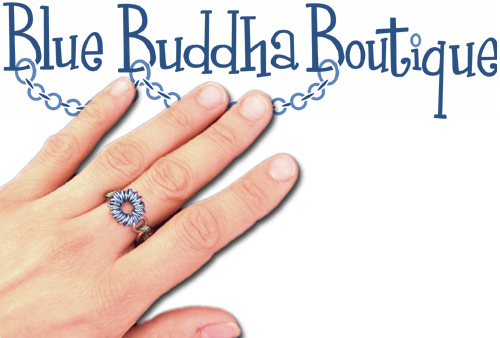 Blue Buddha Boutique, is an online retailer of chainmaille jewelry supplies and handcrafted chainmaille jewelry. Rebeca Mojica started the business in 2003 and for many years operated as a sole-proprietor out of a spare bedroom. An emphasis on superb customer service helped generate a buzz on jewelry forums about Blue Buddha. For many years, Rebeca relied solely on word-of-mouth marketing to grow the business, although the business began advertising in 2008.
In the summer of 2007, Rebeca incorporated the business and hired her first full-time employee. The company saw amazing growth over the past few years–with sales are up 70% this year from 2009–and they now have a staff of 10.
What made you decide to start your business?
I had been making chainmaille jewelry as a hobby for a few months, and decided to start teaching classes in September 2002 to supplement my income. After teaching a couple of classes, I realized that students were looking for places to purchase jump rings (the small metal circles that are the main component of chainmaille). The beads stores where I taught were not interested in carrying jump rings–I don't blame them, as it's an entirely different world!
On a whim, I decided to bring some sterling silver jump rings to one of my classes to sell. I wound up selling $300 worth of supplies that day. At that moment I felt like I was on to something. I realized that these students, just like myself, were frustrated with the lack of high-quality product and accessibility of chainmaille supplies.
In February 2003, I officially started my business. At that point I still thought most of my revenue would come from the sale of finished jewelry, and teaching and supplies would simply enhance those sales.
What factors do you think were most important to making your business a success?
Paying attention to what my students and customers wanted was key. I quickly realized that there was a hole in the marketplace for high-quality chainmaille supplies, and so I stepped in to fill that niche. This means I changed my entire business model. I had to be flexible, and open to taking my business in a different direction. Once I started focusing on supplies, the business really took off. In incorporated in 2007 and hired my first employee. Now 95% of sales are supplies and design instructions for other jewelry artists. 80% of sales are online. We have a staff of 10 to complete orders and quality control our inventory.
Even though I kept the door of opportunity unlocked, I still knew I needed to do research when opportunity knocked. And, in some cases, I had to say "no" to what initially sounded like an exciting opportunity. A buyer for a large chain was very interested in Blue Buddha Boutique jewelry. I crunched the numbers and realized there was no way to deliver thousands of top-quality bracelets within their timeframe and pricepoint. I saw that taking on this order would literally run the business to the ground. So I declined, and sales continued to skyrocket.
Even back in the day when I was a sole-propreitor and shipping 4 orders a week, I was thinking, breathing and being business. I looked at other businesses to see what the successful ones were doing and what the faltering ones were doing. I balanced my books weekly and stayed on top of the numbers, always looking for ways to increase the bottom line.
What did you do to get the word out about your business when you first started and is this different than what you do now?
When I first started, I spent a great deal of time on online jewelry forums, sharing my expertise and getting a feel for what people wanted information about. I was careful to not simply use my posts as shameless promotion. Rather I worked to position myself as an expert, and then, when forum readers would visit my website, they would discover that I had an entire line of supplies, tools and resources to help them with their products.
I also taught as many classes as I could at local bead stores and craft shows. Many of the students from those "early days" are still customers today.
Finally, I also tried to go above and beyond for every single order and customer interaction, figuring that happy customers were far more likely to spread the word than simply "satisfied" customers.
Nowadays, I do not have too much time to spend on forums (with the exception of our page on Facebook and a new forum for my upcoming book). Our efforts now focus on me continuing to position myself as one of the few experts in this field–by publishing projects in jewelry magazines and books–and by advertising.
About two years ago we began advertising in jewelry-making publications, and those ads have really propelled sales. We usually feature one new kit or product, and sales of the featured item increase almost instantly when the magazine hits newsstands. We've ramped up our advertising efforts this year, and have seen our sales increase by 70%.
What are some of your most important marketing tools?
Our page on Facebook has been excellent for us. It allows us to connect with customers in a very personal and transparent way. If someone has a problem, we can address their concerns and offer solutions in a public way, so other customers can see our responses. Interestingly, though, many of the posts on the Blue Buddha wall on Facebook are unsolicited comments from customers, thanking us for our great products and outstanding customer service! We can really show our human side on Facebook, which makes us more approachable. People want to do business with other (friendly) people…not simply with a sterile web interface. Showcasing our personalities on Facebook helps people connect with us on that important, personal level.
It is also because of Facebook that I got a book deal. I was already writing a proposal for an instructional chainmaille jewelry book when the acquisitions editor of North Light Books found me on Facebook and suggested I submit my proposal to her. I did, and ultimately wound up signing with them over the other publishers I was speaking with. The book is expected to be an important marketing tool to drive our sales in 2011. Blue Buddha will be selling kits for all the projects in the book, making us a one-stop-shop for readers eager to create jewelry.
Our newsletter has also been an important marketing tool, especially because we have several different newsletters, depending on what customers are interested in and their geographic location. We don't overwhelm customers with daily or even weekly updates, so when they hear from us (every 2-4 weeks), they know they're getting good information or coupons they can use.
What is one thing you wish you'd known when you started?
I wish I would have realized that my business had the potential to grow to its current size. I set up a lot of somewhat convoluted systems, because they made sense to ME and it never occurred to me that someone else might someday need to use these systems. I mean, I'm happy that our company grew so organically–I've never needed to take a loan from the bank–but it means that even now, we are trying to recover from the "Rebeca systems" and implement newer, more user-friendly and integrated systems.
Also – this is a small thing – but I wish I would have known that when I incorporated the company would have to "purchase" the inventory from me, the sole-proprietor. Had I know that, I would have incorporated a LONG time ago, when my inventory was a lot smaller. I waited until we had about $60,000 in inventory, and since the corporation didn't have that much money to purchase the inventory, it was considered a "loan" from a shareholder (me). So for years, I've had this $60K loan sitting on our balance sheet, and haven't been very good at "paying" myself back. My accountant assures me it isn't a big deal, but it still annoys me to no end.
Did you do everything on your own to get your business where it is today or did you hire help? If you hired professionals, what kind of professionals did you hire that had the greatest impact on your success?
I did almost everything on my own in the early days (except my taxes–I've always had a CPA do the taxes, and that was a great decision for me.)
The professionals that I hired that had the greatest impact on the business were web developers. Originally, I didn't expect my website to generate much more than local sales. I figured my students would place orders and pick up the items during class. However, once I had a website, I started getting orders from different states and eventually different countries. The first developer I worked with helped me set up a site that was easy for me to update and maintain. Yes I *could* have put together something all by myself, but it would have been ugly and probably not user-friendly at all. Having a dynamic website was a major component of our growth.
To be honest, though, what made the greatest impact on the business was hiring folks to do the "grunt" work. Back in the early days, I did everything, from answering emails to cleaning/polishing jump rings, to assembling kits, to packing orders up and walking to the post office. As soon as I could afford to start delegating those tasks, I did. Because as a business owner, my time was better spent doing things that only I could do and focusing on growing the parts of the business that I wanted to grow. Every few months, I sat down do look at what I was doing on a daily and weekly basis. If there was something that was taking a great deal of my time (and I thought my time would be better spent elsewhere), I'd look at the skills required and see if it made sense to hire a professional or if it was more cost-effective–both in the short- and long-term–for me to do it myself.
What are your most important sources of information for growing your business? (A mentor, certain blogs, magazines, message boards etc)
I have learned so much from Entrepreneur and Inc. Magazine. Yes, many of the companies they feature are so much larger than my company, but the issues they face–marketing, customer service, human resources, pricing–are similar to what Blue Buddha encounters as well. Every single issue has multiple tidbits of information that I can use to grow my business.
Local business development centers in Chicago have been crucial to growing my business. I took multiple classes with the Women's Business Development Center and also sought advice from their counselors several times a year. Those advice sessions were free, too…and you can't beat free advice, that's for sure!
In 2010 I obtained an advisory board through the ATHENA PowerLink program. This means that five times a year, I come together with a group of mentors who have expertise in the particular areas I want to focus on, and we brainstorm my business. Having an advisory board has been an incredible experience, and one that I recommend. These folks have asked me questions, poked and prodded me to look at my business with fresh eyes. They've made me admit things that I should have admitted a long time ago. They've made me re-evaluate what my role as business owner is if I want to take my company to the $2 million mark. I plan on assembling a new board when my ATHENA PowerLink program is completed.
Are there any areas of online business you wish you had more expertise on?
I wish I could have instant knowledge of the ins-and-outs and bells and whistles of all the e-commerce software programs out there. Every time I try to delve into this, I am quickly overwhelmed by all the options. I wish I could try out different programs and plug-ins every day (and intuitively "know" the programs, rather than having to spend hours learning the basics) until I found the ones that would work best for our business. I wish I could take a peak at how really large jewelry-compenent retailers (or even hardware store retailers, as they have similar inventory issues, of many really small products in various size configurations) manage their sales systems and integrate them with their inventory database and bookkeeping.
Do you see yourself changing your opinion on business advice as you're progressing in your own business?
Not too much, actually. I have always been a big proponent of seeking as much advice as I can. The more perspectives I have, the better I can evaluate all the possible paths to see which is likely to bring me to my ultimate goal.
When I seek advice, I seek it from trusted sources, and I try to listen without interjecting. I may ask questions or present my concerns about following one particular path over another, but I usually try to let the advice sit in my brain for a few days. Sometimes I can tell right away that the advice is not something that would be best for my business, but other times it takes some analysis for me to see what, if anything, I should take away from that conversation.
Success stories is a new feature here at Smaller Box. I interview independent online retailers with over $100,000 in annual sales. If you're an independent online retailer with over $100,000 in annual sales and you'd like to be interviewed, please contact me.
This content is copyrighted. See my content sharing policy here.