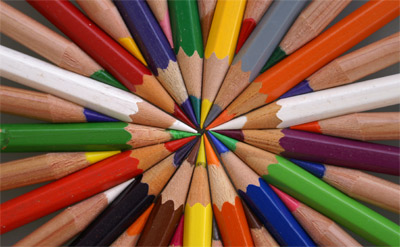 One of my readers commented about "that horrible catch-22 where my husband can't cut his 'real job' hours until the business is making more, but the business can't make more until he cuts his 'real job' hours". This is a pretty common situation and it's where I was when I decided to focus on my own business full time. Here are three things I think you must do to make the transition work.
1. Have cash reserves
There's no way around this, you are going to have to assume some risk. If you don't want to do that or can't do that you are not going to be able to quit that day job. Don't expect investors or strangers on Kickstarter to give you that money when you are taking no risk yourself and not putting up your own money. Things might get bumpy here and there once you go to work for yourself full time and you need to be sure you can pay your bills if that happens. Consider options like a home equity line of credit (interest rates are lower than a credit card and the interest is tax deductible in the US), retirement savings, or personal savings. I suggest having access to about 6 months worth of income at a minimum. It's possible to get outside investors or a business loan but with no collateral or capital of your own on the line that can be pretty difficult.
Make a list of your monthly expenses. How much do you absolutely HAVE to make to survive? What could you cut back on if you had to? Be sure to account for costs like health insurance (if applicable) and taxes. Once you have this information figure out how you'll fund 6 months of those expenses with zero income if you had to. If you can't get access to that much cash now focus on a plan to save it up.
2. Have a specific plan to replace your old income
I can't stress the word specific enough. How exactly are you going to earn the money and how are you going to somewhat accurately make those projections? Don't say "sell stuff". What exactly are the sales goals you need to make? When I decide to work 100% on Ex-Boyfriend we made a list of every upcoming pop up retail event we were definitely doing and what we expected sales to be (having done many of those events in previous years). We made a list of every wholesale lead and account we had and what we expected those to generate for us income-wise based on order history and current talks with those customers. We looked at our online sales from previous years and where the sales came from (ads, SEO, media placements, etc.) and made projections about where we expected online sales to be this year based on past performance. We had lots of specifics on costs and sales history that allowed us to forecast expected income.
We set goals that were reach, expected and bare minimum so we knew what we wanted to do, expected to do and absolutely had to do sales-wise to replace income that was being given up from another source. Every step along the way we were comparing our projections with the reality. Sometimes we made the reach goal, sometimes we made the bare minimum. Rarely (though it happened) we didn't make the bare minimum of expected money from an income source. On average though we made our reach and expected numbers, which is what needed to happen.
If you find yourself struggling with the specifics of how exactly you'll earn the requisite income, you aren't ready to quit your day job.

3. Have a cut off number/date
Have a back up plan for what you will do if you aren't meeting the expectations set up in step 2. How low can you allow the cash reserves to get before you have to get a new job? At what date must you be profitable by to continue with your plan?
If you aren't making your sales goals you will have to find work again, you want to make sure you don't allow your cash reserves to dwindle so far down that you're desperate and destitute. It's important to always compare your goals and projections with reality to make sure you're staying on track.
This content is copyrighted. See my content sharing policy here.