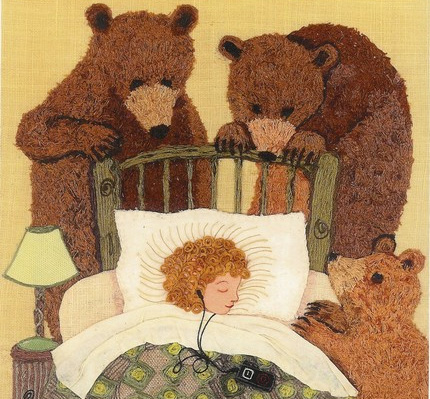 Goldilocks print by AntheaArt

The issue of target market comes up a lot and it definitely was touched on during the discussion of designing products for fun vs money.
One comment I saw in response to my article on products for fun vs money was that you can do any products for fun, you just have to find the niche that likes what you're doing. To that I say "sort of." The trick with having a successful line is having a target market that's specific enough that you're not competing with the whole world, but large enough that you've got a big enough pool of potential customers to make a living.
What this means is that there might be only a few dozen people that would be willing to pay $1,000 for a painting of Babe Ruth that you made from your own blood. That's not very many people. You might love making Babe Ruth paintings with your own blood, but it's not going to make you rich. It's too narrow of a niche and you're not going to sell much. Conversely, you may love making beaded bracelets, but a string of beads is a fairly generic product that has a very broad audience and tons of competitors. Having a product that is so broad and common may make it tough for you to succeed. You'd probably need to narrow things down a bit by maybe having sports team colored bracelets, or maybe your beads are special because they're made from eco-friendly materials.
So what makes a product just right? How do you know if you've found something niche enough to eliminate a lot of the competition but not so niche that there's no customer base? Here are a few things to consider, Goldilocks.
1. How big is the market for it?
How many people, realistically, would buy what you're selling. Are there hundreds? Thousands? Millions? Are there magazines dedicated to the kind of people who might buy your product and if so what's the circulation like? Are there websites dedicated to the kind of people who'd buy your items? How much traffic do they get?
Imagine you want to sell organic crib linens. Your market is eco-conscious parents. That's a fairly specific niche. Not all people have babies. Not everyone with a baby cares about having organic linens. On the other hand, you can see that there are quite a few publications and websites geared to eco-friendly parenting. It's definitely a sizable enough market to move some product. If you google "eco-friendly parenting" you'll probably find quite a few places to advertise. So far so good.
What's the competition like?
Having too many competitors can be a problem. If you haven't found a specific enough niche then you're competing with everyone and chances are someone can do your generic item cheaper, faster or better.
To go back to my example, crib linens is a huge market, a search for crib bedding on Amazon gets me over 20,000 matches. Yikes! Organic crib bedding narrows the field to just 620 matches. It's a more manageable amount of competition, but it doesn't necessarily mean you're positioned to make your millions.
What's your USP?
To truly make your brand a success, you're going to need a unique selling proposition that appeals to your target market. Are your products the cheapest? Maybe you can sell the most affordable organic crib bedding. Are your linens the softest and most luxurious? Do you have the largest selection of colors?
Chances are someone else is selling something fairly similar to your own products, so you need a way to distinguish yourself among your target audience. Take a hard look at your product offerings and try to determine what features or benefits you can offer that no one else has.
If your sales aren't where you think they should be, go over the points above. Research the size of your potential market, research the competition and take honest stock of whether you have something to offer that's unique from the competitors. If you're failing on any one of these points it might be time to reconsider what you're selling.
This content is copyrighted. See my content sharing policy here.