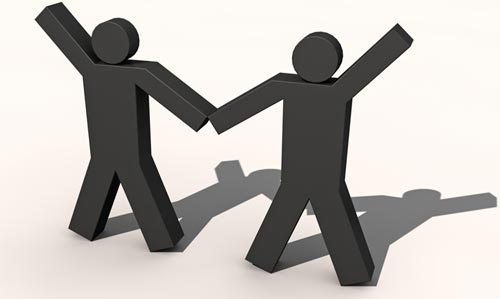 Since most of my small biz readers around here are designers, I thought I'd take some time to talk about how to do collaborations with other designers. It's something you may have been considering, but weren't sure how to proceed. Since this is something I just recently started doing for my own apparel label, here are my top recommendations.
1. Pick the Right Partners
Choose the designers you collaborate with carefully. Pick someone whose aesthetic sense meshes well with your own. If you've established a modern brand that's all about clean lines and muted colors, you don't want to partner with an artist whose work looks inspired by a tattoo shop.
You may want to start off by working with artists you know. If you don't know anyone who's a good fit, try contacting some designers whose work you feel would be a perfect fit and send them a proposal.
2. Discuss the Division of Labor
Discuss exactly who will do what for the collaboration. If you sell soaps and you're having another artist do your package design, make sure you decide who exactly will be responsible for taking the final art to the printer and paying them.
If you're going to be doing marketing, discuss who will be doing what. Will you both be blogging about one anothers' businesses? Will you be mentioning the project in your company newsletters? Is using a photo depicting collaborative work in advertisements acceptable? Who will actually hold and sell the merchandise?
3. Payment and Notification Policies
Make sure you discuss who gets paid what? Determine when payments will be made and how each partner will be notified of sales.
My apparel label gives guest artists 50% of net sales and we've programmed our site to notify our guest artists each time a sale comes in that involves their collaboration. We have our site calculate commissions at the end of each month and then we pay our partners.
4. Legalese and Other Logistics
Make sure you save all emails exchanged for legal reasons. You may also want to have a collaboration agreement that you ask partners to sign. At the very least, make sure you have clear stated terms on the rules of your collaborative project. Also discuss whether the relationship will be ongoing, have a limited edition of product attached to it, be canceled after a certain date, etc.
Make sure you also discuss matters like coupons or cost increases that may affect the commission you can offer your partners.
Lastly, if your products are branded, and I hope they are, discuss this with your partner. Will they object to having your brand's name on the final product? Will you be listing two brand names on the final product? How and where will you be giving credit to your collaboration partner?
The most important thing is clear and detailed communication. Make sure you both feel that all questions have been answered in a satisfactory manner before any collaborative work begins.
Have you done a collaboration? What tips would you give?
This content is copyrighted. See my content sharing policy here.