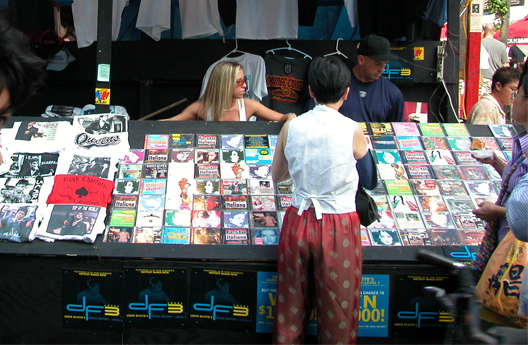 Summer is craft show season, and I know a lot of my readers are gearing up to apply and attend various shows around the country. Before you fill out those applications, make sure the show is going to be profitable. While some of you are thinking "of course it will, it'll be a huge show", I'm wondering; have you done the math?
Let's imagine you sell handmade bags and you're going to Renegade, a fairly large show. Your booth is going to cost $325.00. Now let's take 2 scenarios:
Pre-Show Expenses:
Scenario 1: You are doing a show for the first time; you need to buy a tent, signage, booth decor, display equipment, etc. This can easily set you back $300.00. You are also from out of town and have to spend 2 nights on a hotel plus meals. With a budget hotel in a major city and inexpensive meals, you'll still spend at least $300.00. Let's say you live 5 hours drive from the show and spend $50 on gas and tolls. (I'm assuming there are 2 people going to the show since doing a large show alone is pretty difficult.) Since you are spending 10 hours in your car round trip and there are 2 workers, there goes 10 hours in labor. If you even want to make $25 per hour you've spent another $500. (10 hours x $25 for 2 people.)  At this point your expenses are $1,475.00 and you haven't been to the show yet.
Scenario 2: You've done shows before and have all the equipment and you live near the show so you don't have to pay extra for hotels and eating at restaurants. You are only out $325.00 so far.
Now let's look at labor:
We're still looking at 2 workers, and let's say you spend a total of 24 hours on labor. (2 workers x 8 hours at the show = 16. 2 workers x 4 hours of packing up product, driving to the show, setting up pre-show, tearing down post-show, driving home.) If you're sticking to the $25 per hour model, you are spending $600 on labor here.
So far:
Scenario 1: $2075.00 has been spent
Scenario 2: $925.00 has been spent
Profit Potential:
Let's say our show goers sell bags for $50.00. The bags take 1 hour of labor to make and cost $10.00 in materials. The total cost of a bag is $35.00 so each bag sold makes $15.00 profit for the business.
Scenario 1: You need to sell over 138 bags in 8 hours to break even ($2075/$15)
Scenario 2: You need to sell over 61 bags in 8 hours to break even ($925/$15)
Can you sell 8-18 bags per hour? I can't answer that for you, but it's something you have to consider. If you want your business to earn a profit you need to sell a lot more than that. The math above is just about breaking even.
If you say the show is about getting exposure, consider this: can you get more "exposure" by going to a trade show, or advertising online? How many people will see your products at this show and how many of them are important to be seen by? (Meaning are they buyers for stores you're trying to sell in, etc. And if so, is there a more cost effective way to target that audience?)
Compare craft shows to online ads:
For $850.00 you could buy a mini ad on Cuteoverload.com which receives over 4 million impressions. Will 4 million people hear about your brand at the craft show? If your ad gets a .25% click-through you'll have 10,000 people visit your website over the course of a month. Will 10,000 people visit your booth at a craft show? If you get a 1% conversion rate you'll sell 100 bags. Your business would see a profit of $650.00. ($15 per bag x 100 bags. Subtract the $850 cost of the ad.) Meanwhile, you haven't spent your weekend in a sweaty crowded booth.
I can't tell you definitively that you should advertise online or where, nor can I tell you whether you should do craft shows. I personally prefer to spend my money advertising online because it's what has proven effective for me, but every business is different. With any business expenditure it's important to do a cost benefits analysis and make some projections on cost and profit potential. To help you out, I've put together a profit and expense worksheet for craft shows. You can download it from the link below:
This content is copyrighted. See my content sharing policy here.