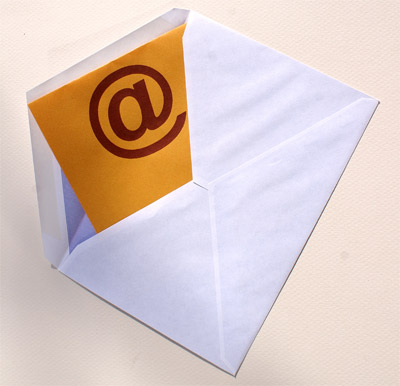 Yesterday I explained a little about what remarketing is and today we're going to talk about how one might conduct a remarketing campaign via email. Email remarketing campaigns are most commonly used to get customers who abandon their shopping carts to return and complete their purchases.
In order for this to work you're going to need the customer's email address. Here are a few ways you might get it:
1. Your checkout
This is probably the safest, easiest and most common way to get customer contact information. The scenario is simple. The customer fills out the shipping page on your cart and supplies their email address. They get to the payment page but don't complete the order. Your cart still stores their email address and you can now use that to remarket via email.
2. Your cookies
If you have the sort of website that uses customer accounts and sets cookies for all visitors, you may be able to identify a customer even if they don't begin checkout. For example, if you have an Amazon.com account, they've set a cookie on your computer (unless you delete it) that allows them to identify you every time you visit, even if you don't actually check out every time. This means they know you added an item to your cart and were considering buying it, even if you didn't provide contact info on your most recent visit. In theory, Amazon could send you a remarketing email prompting you to complete the purchase of the items in your cart.
3. Affiliate cookies
There are some affiliate programs out there, like Second Bite, which cookie most people who use the internet. Their network is vast and they mine a lot of data. If you work with a program like this, it's possible that they could have your customers' email addresses even if you do not. They can then use this information to send remarketing campaigns on your behalf.
This sounds obnoxious/creepy!
I don't entirely disagree with this sentiment. I personally do not use this form of remarketing, but a lot of companies do. This post is meant to teach you how it works. It's ultimately up to you to decide whether you want to try a campaign like this. Some customers probably will complete their order based on this kind of campaign. Some might find it annoying, which brings me to pitfalls…
Pitfalls of Email Remarketing
1. You might seem like a stalker
This is the most obvious problem. If you're tracking customers who haven't even given you their email address, it's more likely to creep them out. You're in a better position if they've actually supplied their email address at check out. You're even better off if they ticked the "add me to your mailing list" checkbox during checkout. That means they've agreed to accept promotional emails from you.
Assuming you've got one, if not both of things in your favor, you're probably okay to send a remarketing email. It's important to watch your wording and frequency, but more on that in a minute.
2. You might be training customers to abandon
A common practice with email remarketing campaigns, is offering the customer a coupon to complete their purchase. This makes some sense. If you think they abandoned because shipping was pricey or your products are expensive, offering a coupon can sweeten the deal and give an undecided customer a push to complete their purchase.
You do have to be careful here, because if you do this every time your customers abandon, your best customers might start seeing the pattern and start abandoning as a matter of course, waiting to get their discount.
You can get around this issue in a few ways:
* Don't use discounts
* Don't use discounts for existing customers
* Don't use discounts for the same customer twice
* Don't use discounts consistently
* Make discount codes available on your site (This is a practice I actually like a lot. It keeps people from going off-site to look for coupons and can even be used to increase average order value. You can try offering 10% off for orders over a certain dollar value and sharing this coupon on your checkout and/or product pages. If you still get cart abandonment and want to do some email remarketing, you can offer those customers 15% off or remove the minimum spend on the coupon code you send to them. You have to do what's going to work for you business though.)
Timing and Language
Fine tuning the timing of your remarketing email campaign and the copy for those emails is a big portion of the work involved with these campaigns. You don't want to email so soon that you're annoying the customer. You don't want to email so late that they've forgotten about the purchase they were considering. Experiment with emails a few hours after abandonment or a day after abandonment. You'll want to do testing to see what time-frame yields the best response.
You'll also want to experiment with language. Some common strategies include:
* Simply reminding customers they left items in their cart
* Offering a discount to complete the order
* Emailing as a customer service courtesy to see if they ran into any issues using your site
You could even do all three. Here's an example:
Hi John
We just wanted to drop you a line to make sure you didn't encounter any problems while shopping on our site yesterday. We noticed that you still have a few items in your cart and we'd like to offer you a 15% off coupon to complete your order. Simply enter coupon code 15OFF at checkout in the next 72 hours and you'll save $9.20 on your current pending order. If you have any questions or require special assistance, we'd be happy to help you. You can reach our customer service department at 800-123-4567.
Sincerely,
Jane Doe
You could even include pictures of the items that are in the customer's cart, as a visual reminder of the items they wanted.
The technology behind email remarketing campaigns
Obviously, you're going to need some technology to manage your email remarketing efforts. If you're looking for a low budget and low-fi quick fix, you could just go into your website's shopping cart data and pull the email addresses manually and email customers from your email client. If you're running a really small business and don't get tons of cart abandoners, this might work for you. If you want something automated, you'll want to investigate programs like RevenueExpect. They've designed a simple-to-integrate solution that connects an automated email remarketing program to your shopping cart and emails sevice provider (such as Constant Contact or MailChimp). Other services that have this type of technology include Bronto, ExactTarget and probably several others.
Going analog
Some small business owners have told me they call people who abandon carts. They present that call as a courtesy call or ask the customer if they'd like to provide feedback on their site's user experience. This is obviously going to be a little time consuming and again won't work if you get hundreds of cart abandons every day. Still, it may be something to try for customers here and there. You can end up getting some valuable information by talking to customers in real time and you may even be able to save the sale.
This content is copyrighted. See my content sharing policy here.