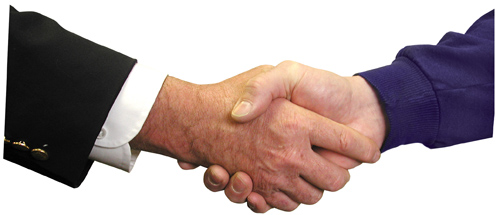 For the millionth time on this blog, I'm prefacing this article by saying YOU NEED YOUR OWN WEBSITE. You cannot take advantage of an affiliate program if you only sell on sites like Etsy or Ebay. Now that we're clear on that…
Affiliate programs are programs that allow people to get a commission from your website from helping you sell stuff. There are people on the web that do nothing but market for other businesses and make their entire living on these sales commissions. The good news for you about affiliate programs is that these marketers only get paid when you make sales.
How does it work?
Typically you place a small piece of code on your "thank you for your order" page. This code is invisible to customers. Its only purpose is keeping track of sales that come from your affiliates so they get paid their commissions. This is why you need your own website, you need to be able to put this tracking code on your "thank you" page.
How much does the affiliate get paid?
That is up to you. Some websites pay their affiliates a flat fee for every order. Most pay a percentage of their gross sales. If you want to attract good affiliates you'll need to offer an attractive commission. No one is going to want to generate sales for you if you're only going to pay them a dollar or a few cents for each transaction (unless your conversion rate is extremely high). If you're not sure what the going rate is, take a look at what commission rate others in your industry offer to their affiliates. 10-20% is common in a lot of industries, but be sure to research your own market before setting your terms.
Also keep in mind that some businesses offer their affiliates tiered payments, which means the affiliate gets an even higher commission if she meets certain sales goals. These commission structures are designed to incentivize your affiliates to sell more merchandise for you.
How do I find affiliates?
It's pretty common to join an affiliate management website like Clixgalore.com or Shareasale.com. The nice thing about these sites is they have a large pool of affiliates looking for companies to promote. They also handle all the administrative issues of your program. They'll give you sales tracking code to use. They'll handle paying your affiliates. For these benefits, you have to pay some fees. The affiliate program administrators' fees vary. Some charge a percent of gross sales. Some charge a flat fee. Some charge a combination of the two.
You can run your own affiliate program without the help of a site like Shareasale or Clixgalore. You'd probably want to install some affiliate management software and there's lots of it out there. Programs like "Affiliates for All" are free and open source. Programs like LinkTrust charge a fee. If you go this route, you'll have to find your own affiliates since you won't be able to rely on an affiliate management company's pool of affiliates. On the plus side, you don't have to pay an affiliate management company.
I recommend using an affiliate management site to most small businesses since it's a little less work and gets you access to a larger pool of affiliates. Whichever route you choose, you can link your affiliate program from your own website so that people visiting your site know they can join it, market for you, and receive a commission.
How does the affiliate get paid?
If you are dealing with an third party affiliate management company they take care of that for you. You supply them with a deposit or credit card number and they use that to pay your affiliates. If you are running your own program you dictate the payment terms. You might pay by check or Paypal after a certain number of days or after a minimum of affiliate profit has been generated.
How do I help the affiliates sell more stuff?
Typically you want to help your affiliates do their jobs. This means furnishing them with a variety of banner ads, discount codes and promotional information. Usually when you set up your affiliate program, you want to have a variety of marketing tools on offer to your affiliates. Going forward you may want to contact your affiliates on a regular basis with new promotional information and materials. The more you nurture your affiliates, the better they'll be able to perform.
Affiliate programs sound awesome, why would I bother with any other form of advertising?
Affiliate programs aren't all a bed of roses. First of all you're paying a fat chunk of cash to the affiliates every time they sell for you. If that were your only source of sales, your net profits would probably take a nose dive. Second of all, affiliate programs don't always pan out. Just because you build it doesn't mean they'll come, and in this case, just because you have an affiliate program it doesn't mean you'll get a lot of sales from it. I have an affiliate program on my website and the vast majority of my sales don't come from it.
Another downside to affiliate programs is that you don't have as much control over your brand. You need to pick your affiliates carefully to make sure they're not misrepresenting your brand. What if an affiliate joins your network and then puts ads for your brand on a white power website? You have to be careful about who you let do your marketing and how they're going to do it.
I wanna give this a try, how do I find some affiliate management sites?
Here are a few:
Keep in mind some of these programs are not for beginners. Some of these sites require that your site be at a certain revenue level or that you pay a pretty hefty start up fee. The two programs that I'd say are the most beginner friendly are Clixgalore and Shareasale.
This content is copyrighted. See my content sharing policy here.