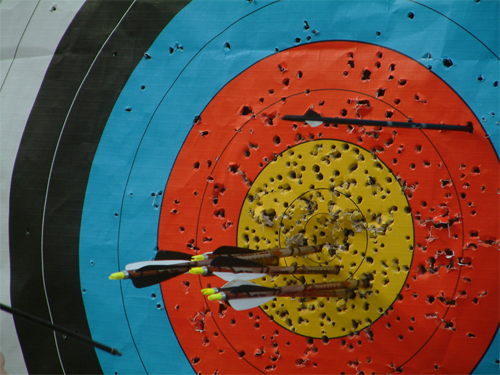 So far this week we've talked about what remarketing is and how you can leverage email for remarketing campaigns. Today I want to delve into using banner ads as part of your remarketing efforts.
First, a little background on how this works:
You place a snippet of code on the pages of your website that you want to track (i.e. shopping cart or product pages). This code is used to set cookies on your visitors' computers.
The cookies will be used to create a pool of internet users who've taken a certain action (added items to your cart and not made a purchase, viewed product pages — it can really be anything you want.)
Programs like Google Adwords can then serve your ads to that pool of internet users as they hop around the internet. Your ads will appear to them as they read blogs, visit message boards, etc.
The theory is that this audience is more likely to make a purchase if they click your ads since they've already been to your site and know your products, brand and price points.
What you need to make use of this type of marketing:

Access to your website's source code
Etsy users will not be able to market this way, so if you want to get into remarketing, you're going to need your own website.
Some degree of comfort with the technical side of online marketing.
Truthfully, this is something you're going to need if you want to sell online effectively. If you hate this stuff, you'll probably want to hire an expert that's experienced with online marketing.  Setting up a remarketing campaign means getting into your site's source code and examining your site's traffic reports to make smart decisions about how to set up your campaigns.
A statistically significant amount of website traffic.
If you only get a few hundred visitors each month, you won't really have a large enough pool to re-market to. Sites that are successful with remarketing campaigns like this typically average over 1,000 visitors per day. The more the better. The reason for this is that the more people there are visiting your site, the more people there are to display remarketing ads to. Imagine you only got 1,000 visits/month, your remarketing program might only manage to display your ads to a few hundred of those people. Even if you got 1% click-through, which is pretty high, you'd only get a few clicks. That wouldn't be a statistically large enough number to rack up conversions.
How to set up this type of remarketing:
There are a lot of programs out there that do remarketing, programs like FetchBank and Advertise.com are huge, but don't really cater to smaller businesses. There are 2 programs that are suitable for smaller businesses that I want to tell you about today:
Google Adwords
Google Adwords is nice because it's a self-service platform that ANYONE is allowed to use. I could write a tutorial on how to set this up but Search Engine Land already did a really nice job with this so I'll just direct you to their well-written tutorial. Google's reach is pretty significant so your site visitors are very likely to see your ads. Another perk is that pricing works just like any other Adwords campaign. That means you set the budget you want to set and the cost per click you're willing to bid. (Keep in mind the cost per click is auction based so a higher bid is more likely to get your ads on display).
The biggest challenge with using Adwords is that it requires some tech savvy and it doesn't offer much tech support. The tutorial I linked above should help, but if talk about user segmenting and lifetime visitor value makes you break out in a cold sweat, this tutorial may not be enough hand-holding. If that's the case, work with a professional to get set up.
Adroll
I just set up my own Adroll account recently and don't have enough data to say whether it's something I'll be sticking with, but I will say their user support is TOP NOTCH! Their user interface isn't terribly difficult to understand and their support guys are extremely helpful and patient. If you want hand-holding, give Adroll a shot.
You will need at least 500 users in your user pool before you can begin using Adroll, so again, you'll need a significant amount of traffic to make this work. That said, if your site traffic is where it needs to be and you want great tech support, this is the way to dip your toe in the remarketing pool. They even offer a free trial for new customers.
A few final points on remarketing with banner ads:

Like I mentioned in my article about email remarketing, this stuff can get creepy. People who visit your site once may find it odd when they're suddenly seeing ads for your site every place they turn. You may want to set up a frequency limit so the same person is not bombarded with your ads 1000 times/day.
It's a good idea to set up different user segments so you can target the site visitors that are most likely to come back and place an order.  What I mean by this: people who added to cart are more likely to return and buy than people who left after only viewing your home page. People who joined your mailing list may be more likely to convert than people who simply viewed product pages. People who viewed product pages are better targets than people who only viewed the home page. You can set up different segments to differentiate people who took certain actions and display specific ads for those people (or even exclude them from seeing your ads).
Test different ad designs. You want to put the most clickable ads in front of people, so experiment with different ad designs and ad copy to see what gets you the best click-through and conversion rates. You may want to even put a promotion code on your ads to lure back customers who abandoned their shopping carts.
This content is copyrighted. See my content sharing policy here.