I was so inspired by Amazon.com's confirmation page that I decided to do something similar on my own website. Below is what Amazon's confirmation page looks like (click for a closer look):

Notice on the right side Amazon encourages their customer to tell their friends on Twitter and Facebook about their recent purchase? This is a great idea! How many times have you ordered something online and felt so excited about your purchase that you wanted to brag a little about your awesome find? I know I've been there. This little widget makes bragging about a purchase a little easier for Amazon's customers.
Here's how we implemented something like this on Ex-Boyfriend's confirmation page (click to see close up):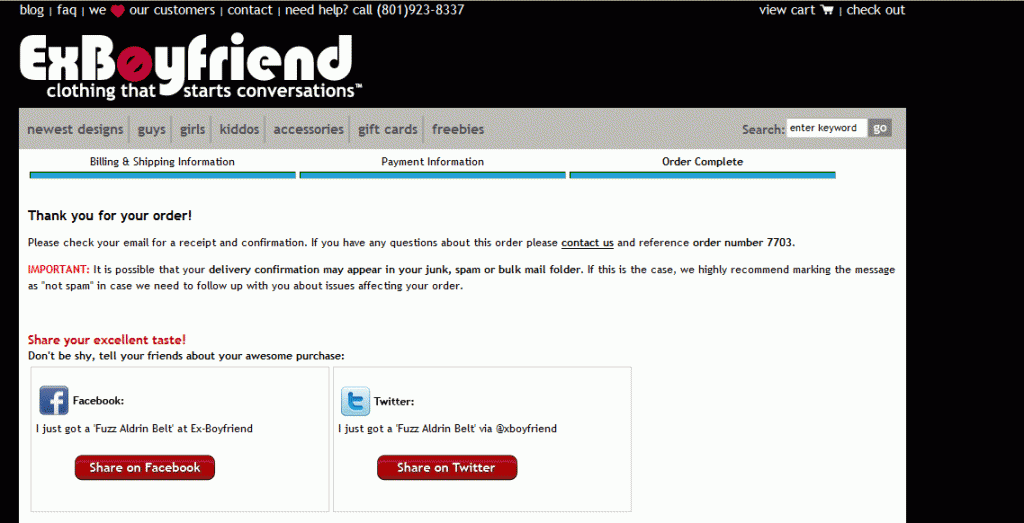 When our customers click the share buttons, a Facebook or Twitter pop up appears that announces what they purchased. (In instances where our customer bought more than one item, we display a drop down so the customer can select the item to share.) Click the image above to see an action shot of how it works.
How to do it:
This is the tricky part, you're going to need some technical know how to implement this. If you're on a site like Etsy this won't be possible. (Though I can't imagine why Etsy has not yet implemented this feature on their confirmation screens.) If you're on your own site, you'll need to be able to access the code that controls your confirmation screen and determine where it spits out the list of items your customer just purchased. You can use those variables to set up prompts for Facebook and Twitter links.
Twitter is a little easier and they have a nice easy developer tutorial here. Facebook is a little more difficult. You'll need to create an app that uses the streamPublish function (a Facebook developer function that allows to your application to publish to the user's wall). If your site is in PHP and you know a little PHP, this shortcut is a pretty nice time saver. If you're not tech savvy enough to make sense of the Faceconn toolset and want to implement a feature like this on your site, a freelance PHP developer should be able to put this together for you pretty easily. You can look for a PHP freelancer on Vendor Wiz or a freelancer search site like elance.com.
This content is copyrighted. See my content sharing policy here.