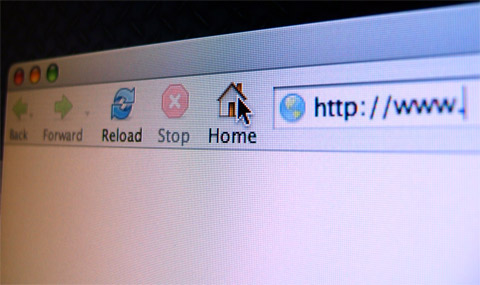 1. Splash Pages
The more clicks you give the customer to deal with, the more of a chance you have to lose them. Don't make visitors click through a splash page in order to get to the goods.
2. Inconsistent Navigation
A well designed website has a consistent navigation bar on every page of the website. The navigation is usually found on the top of the page or to the left.
Bonus Points: Make sure the names of the things on your navigation bar make sense to the visitor. Using obscure clever lingo to call out the pages on your site doesn't help the customer understand where he or she can go on the site.
More Bonus Points: If you have a lot of second and third level pages use breadcrumbs to help the user navigate. A breadcrumb is a listing on the top of the page that shows the visitor how they got where they are and how to get back to where they started.
3. Flashing/Blinking Stuff
The blink tag is not your friend and animation should be used sparingly if at all. These moving objects distract the visitor and make it difficult to focus. If you are going to use animated elements, make sure they don't flash too quickly.
4. Too much copy/hard to read copy
Going on for paragraphs about how your new collection of earrings was inspired by your day at the ocean while the wind tousled your hair will put customers to sleep. You want to keep your copy concise and punchy. Product features should be bulleted so they're easy to skim. Make sure pages on your site are easily scanned so people can make sense of each page in a few seconds.
5. Hard-to-Find Contact Information
Don't hide from your customers. If you don't make your contact information easy to find it makes your site less trustworthy and reduces your chances of making a sale.
6. Disorganized FAQ
For starters, most of the FAQ items should already be answered on your site. FAQ should just be a place to reiterate information you already supplied where appropriate. For example, your sizing chart should be on your product pages. However, you can still include a note on your FAQ about where to find sizing charts, in case customers missed it on the product page.
Second, break up FAQ items into categories like shipping or returns, so customers can quickly find answers to their questions.  Put an FAQ table of contents on the top of your FAQ page and allow visitors to click headings to jump to the section that answers their questions.
7. Incomplete Product Details
Make sure your product description answers every question about your item. How does it fit, does it feel heavy, what is it made of, how do I care for it, is it suitable for children? (20 Questions Customers May Have)
8. Shopping carts that require registration
This is one of my biggest gripes about Etsy. If you have your own website, make sure you aren't making this mistake. Don't make customers sign in/sign up to give you money.
9. Pop Ups
Most browsers now block pop ups. If you've found some sneaky way to pop things up any way, you're probably just being annoying. I understand that you want people to join your mailing list, fill out your survey or check out your clearance sale but find another way to make it happen. Pop ups are the hard sell and they'll leave a bad taste in the customer's mouth at best. At worst the customer will leave immediately.
(This is not to say you can't have a photo enlarge feature that the customer clicks and pops open a large view. I am talking about things that pop up automatically trying to demand the viewer's attention or trying to make them take an action.)
10. Unprofessional web design
Your web site is the face of your business. It's probably the only face your customers will see. You want to look your best and you want a website that engenders trust so people will give you money. If you have a shabby looking website, that's not going to happen. Spring for a professional designer if you don't have sufficient web design skills. There are lots of web designers out there with affordable rates that specialize in working with small businesses. The money you'll invest in their services will pay off in the long run with greater sales. Not to mention that a nice looking website makes it much easier to get press.
This content is copyrighted. See my content sharing policy here.