Did you know that you can only use a coupon for Facebook ads once? In the entire history of your account, if you've ever used a Facebook coupon you can NEVER use one EVER again. It's in their fine print, where they hope you won't notice it.
Recently this email showed up in our company inbox: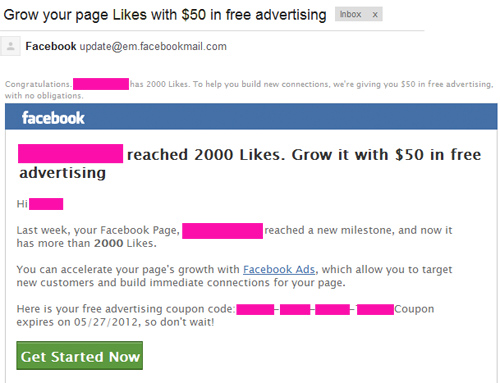 I had tried Facebook ads years ago and saw no measurable ROI. I'd also read that they'd been working on improving their ad model and that more recently advertisers were seeing better ROI. This invite made it seem like a good time to give Facebook ads another try. I clicked the "Get Started Now" link and here's what the screen said: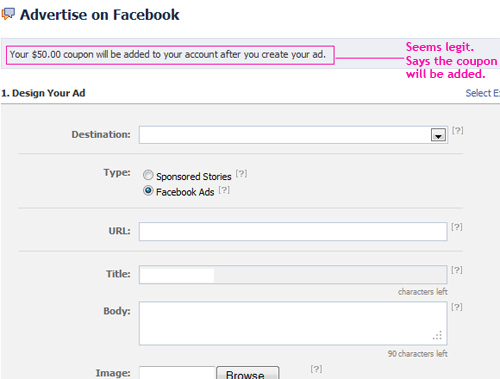 I created a new ad and it ran for a few days. ROI? The ad cost about $1/fan. If 1% of my fans buy stuff at that rate I'm paying $100/conversion. Not so great. But here's the kicker… a few days later my credit card was charged for the ad. When I contacted Facebook to ask why this was they trotted out their policy about only accepting 1 coupon per account EVER.
Here's what they wrote:

If Facebook truly didn't mean to cause "inconvenience and confusion" then why send out a coupon to a customer that can't use it? Why show a message after the coupon is "applied" stating "Your $50 coupon will be added to your account after you create your ad"? Why not display an error on the screen when I attempt to enter the coupon code stating that the coupon isn't valid?
I'm sharing this post so other page owners aren't duped by this deliberately misleading user interface. I also hope Facebook will consider changing it's coupon promotion policies or user interface to something more honest, so more users aren't manipulated into buying ads they might not intend to purchase.
This content is copyrighted. See my content sharing policy here.