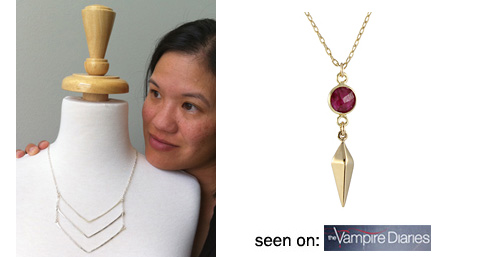 Jewelry designer Peggy Li launched her company over 10 years ago, making her a veteran in the handmade business community. Today I'm chatting with her about how she's grown her business and continued to thrive in a crowded marketplace.
Tell us a little about yourself and your company. What does your company do and when did you get started and what's your growth been like over the years?
I create and sell jewelry at my website, Peggy Li Creations (http://www.peggyli.com). I got started like a lot of jewelry makers, by making jewelry for friends and family and for myself to wear. People would stop me in stores and on the street and ask where I got my pieces. On a whim, I sent some pieces into my favorite TV show at the time, Buffy the Vampire Slayer. To my utter surprise, they used pieces on the show and my business was born! I worked full-time for several years while running my jewelry business on the side but it has grown pretty steadily year after year. I went full-time with the business about two years ago and it's jumped to 30% growth year over year.
When did you realize this was going to work and you could make a career of this?
I've always wanted to do a lot of things, so I don't think I've even settled on this business as my career. I love the challenge of running a business and the creative outlet of creating things that people enjoy wearing. On the practical side, I believe that if you're already working, it's great to keep that job for as long as possible while you build your business (I even went part-time with a day job for several years before cutting the apron strings). It took a lot of pressure off of me and allowed me to enjoy all aspects of the business before I made it my business. When I saw that I could make as much money as my (part time) day job, when I saw consistent numbers year over year, that's when I had more confidence that I could run my business as my full-time job.
Do you have moments where you get discouraged or feel like you can't make your business work? If so, how do you get yourself out of that place?
As entrepreneurs I think we all fall into these funks from time to time. I try and focus on the positives and take a moment to celebrate the things that I have accomplished, then put it all aside and get back to work!
I know jewelry is a very saturated market, how do you stay competitive with so much jewelry out there and the influx of hobbyists flooding the marketplace with cheap goods since they aren't trying to make a living or wholesale their products?
There are plenty of customers out there and it's about targeting your market, understanding who your customer is, and speaking to them and finding where they live and shop. As long as I take care of my end, creating quality products, giving great customer service, and creating my brand to reflect the value of my product, the rest falls into place.
I also keep an eye on important stats like which items are selling. What are people looking for? What's current in the market? How can I improve all aspects of my business?
One thing that's really impressive about your business is your ability to get your product in the media (magazines, TV, movies, etc). How do you make this happen and does it make a big difference for you in terms of online sales and/or wholesale? How do you maximize the benefits of these media placements?
Thank you! My business got its start with a TV placement so it's in the DNA of my business model. It's very important for my online sales and is a great way new customers can discover my work.
I pitch my product to various shows just as I would pitch my product to a blog, magazine or newspaper. I'll sound like a broken record – target your market! I target shows I think are a good fit for my brand. When I have a placement, I do outreach with TV fan sites and with "seen on TV" blogs and websites to get the word out about my work on TV. It's also important to make those products SEO friendly for people searching for what their favorite TV character wears.
What are some of the most valuable things you've learned running your business or things you wish you'd known when you started?
I wish I had been more confident at the beginning and more proud to be a small business person. I didn't tell a lot of people about my business when I first started and I wish I had more business mentors in the early years.
How do you go about getting your product in front of retail customers? Do you mostly sell online or at live events? What are some direct-to-consumer marketing tactics that did or didn't work for you?
Over the years I've done lots of live shows, fairs, websites, brochures. These days I sell mainly through my online site and through a few select online retailers. I believe it's all about understanding your target market and partnering with online sites that fit your brand. If an online retailer doesn't work for you, don't continue to use it! I have to use my time well as there is only one of me!
With online direct-to-consumer, I believe it's so important understand SEO and optimize your ecommerce site to make it easy for people to find. You also need a website that is informative and easy to shop. I also blog, use Twitter, Instagram, Pinterest and Facebook to build community and share my brand with my customers, who can build a one-on-one relationship with me through these outlets. Building trust with customers and being credible is key for people who can only experience your product online before buying.
Tell us about a big mistake you made running your business, what you learned and how you recovered.
I've made a few mistakes  — spent money on PR firms and PR opportunities which were duds or worse, scams. These lessons have taught me that information is your best friend. Do your homework on any opportunity, understand your risk and options. Even more important, understand your own business, products and goals, and use this to help guide your business decisions. Also, don't beat yourself up over mistakes! They will happen and they are part of the learning process.
If you had to start over from scratch today with a new business what would you do differently? How would you go about it?
I'd love to start a new venture and have partners so the burden isn't entirely on my shoulders to get things going. I'd also like to tackle a business that doesn't depend on physical product! For example, I'd love to take my experiences, especially in PR, and create a business to help other businesses build their PR.
A big thanks to Peggy for sharing today and be sure to check out her beautiful collection at PeggyLi.com. I actually wore a pair of her lovely earrings a few years ago at my wedding 🙂
This content is copyrighted. See my content sharing policy here.