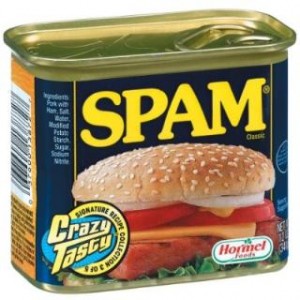 One of the biggest problems with having a website or blogs is dealing with spammers. These semi-literate bottom feeders are out to junk up the web and they want to use your web presence to do it. Comment spammers go around the web in search of blogs to leave comments on, or in many cases, have bots that do this. They have nothing of value to add to your blog's conversation, they just want to get a link from your site to their site, for their own half-assed attempted at search engine optimization.
So first, here are the signs you are dealing with a comment spammer:
– The leave vague comments like "nice post" without actually referring to anything specific about your post.
– They fill in their "name" as something like "Treatment For Teeth Grinding"
– They are a hit and run commenter, they stop by once, leave a comment with no substantive value and never return.
Why you should delete their comments:
– They are junking up your comments section with no value to contribute
– You're rewarding their spammy behavior by even allowing them to use your site for their gain
– It makes it look like you don't have truly engaged readers on your site
– It gives more spammers the idea that your blog is spam-friendly and gives search engines the idea that your site is a haven for spam.
How to keep their comments off your blog:
– Use askimet, it's the best comment spam blocker out there. Installing askimet means your blog will delete most of the spam comments for you, without your having to even see them.
– Don't auto-approve comments on your blog. Hold comments for moderation and delete any that look like spam.
Although it's tempting to allow these spammers to leave comments, since it makes it look like your blog is getting interaction, these comments deliver no value to your site and look like junk to legitimate readers. Keep the spammers in the trash where they belong, keep creating good content and the real readers will eventually chime in.
P.S. For those that follow me on Twitter, you may have seen I've been working on a viral marketing campaign. You can take a look at what I've been up to here. I'll have a more detailed post on how this is going some time next week — hopefully inspiring you to try some viral marketing of your own.
This content is copyrighted. See my content sharing policy here.