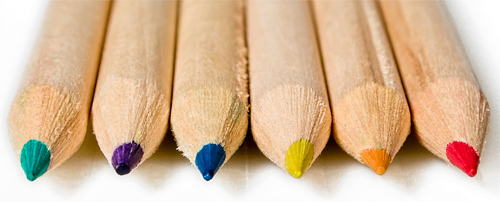 I am totally fried from my crazy awesome weekend at Otakon — an anime/comic/pop culture festival with over 30,000 attendees. As always, these weekends not only bring us a loads of new sales and fans, they also bring lots of thoughts and ideas about business.
We had tons of people tell us our booth was their favorite one at the show. We has a regular old booth in a sea of hundreds of professional vendors who do this kind of thing every weekend. What made us stand out? We were giving away really cool free stuff people wanted (A.K.A ads for our business).
While other vendors were charging the attendees a buck or two for a vinyl sticker, we were giving ours away for free. And our stickers featured our most beloved and iconic character, Fuzz Aldrin. The stickers looked so cute, that people happily took them and put them on their guitar cases, car bumpers, laptops, etc. By the time Sunday rolled around, people were seeking out our booth and asking us for stickers, saying they'd seen them all over during the weekend.
Why not sell them and make a quick buck?
I have no doubt that some people would have given us a buck or two for our stickers, but we might have only sold 100 or so stickers that way. Giving them away for free means thousands of people are promoting our brand for us. The stickers only cost us a few cents each, so it was a small price to pay for what amounts to a ton of (almost) free advertising. Not to mention brand affinity.
How do you get people to seek out your marketing materials and enthusiastically share them with the world?
1. Have marketing materials they can use
If your marketing materials are functional, they are less likely to be thrown away. This is why things like buttons and stickers are good. People will hang onto stuff like that and display it to the world.
2. Have marketing materials that are cool
Having beautiful iconic design associated with your brand is highly important. If you're not a designer, hire one. You can't skimp in this area if you want people to promote your brand. Think Hello Kitty from Sanrio. She's essentially a brand logo, but she's so adorable that everyone wants her.
3. Have marketing materials that are iconic, memorable and most of all GOOGLEABLE
Having iconic unique branding goes hand in hand with having cool marketing materials. Really effective marketing materials are so memorable and iconic that people see it once and remember it. If they look it up online, they'll find it right away.
If you're trying to build a brand, you want your iconography to be easily identifiable and so ingrained in culture that your iconorgaphy is instantly associated with you. After all, the whole idea is to make everyone who sees your ads fall in love with your brand, seek it out and become a fan/customer.
4. Give away your marketing materials at every possible opportunity
Selling your marketing materials is short-sighted,. Unless you're already such a household name that everyone knows your branding, you're not in a position to charge for it. On the other hand, flooding the universe with your branding is a great way to make your brand a household name.
Give away your marketing materials at pop up retail events. Insert your marketing materials in every order you ship to customers. See if you can get other businesses to take your marketing materials. In Baltimore City, one of the most recognizable brands is Big Boyz Bail Bonds. They've accomplished this by giving free pink and yellow pens to every restaurant and bar in the city. You can't eat or drink in Baltimore without seeing an ad for this business. The pens have a distinct look and they're so ever-present that everyone in town knows about them. All this cost them was the price of the pens.
A final thought about cost
You may notice I rarely talk about marketing being free. This is because there's really no such thing. There's marketing that costs time and marketing that costs money, but all marketing is going to cost something. The type of viral marketing I describe in today's post isn't "free" but it can be inexpensive.
When you're producing marketing materials like the ones I described in this article, your best bet is to buy in bulk. You'll get a cheaper price per piece if you buy 10,000 pieces instead of 100. It will be a bigger up front cost, but in the long run it is significantly cheaper.
You also have to remember that if you're doing it right, each piece of collateral that cost you only a few cents, is going to get thousands of views out in the world. You can't buy cheaper advertising, so if cost savings is your goal, this is the route you want to go.
P.S. Want to get custom stickers for your business? We used PS Print for ours and we were super happy with the price and print quality!
This content is copyrighted. See my content sharing policy here.