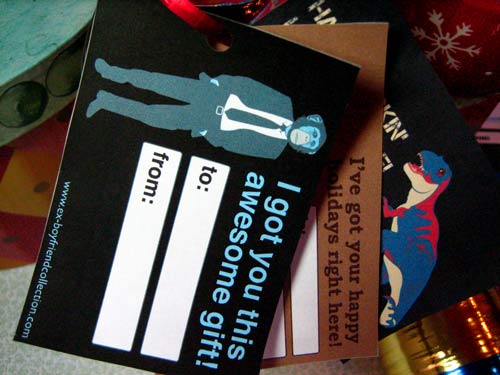 Over the weekend my partner and I designed a bunch of free downloads for our customers. We created gift tags, mini note cards and gift card sleeves. Here are a few reasons we did this:

1. Viral Marketing
All the items we designed have our company URL on them. This means everyone who downloads and prints our stuff is spreading the word about our company. We designed items that were colorful, cute and memorable, so that when someone receives a gift adorned with our creations, they'll take notice. Even if our gift tags are used to adorn a gift that's not from our shop, our company is still part of the experience.

2. Gives Gift Card Sales a Boost
Gift cards are usually a hit with friends and family, but delivery can be lackluster. "Here's this piece of plastic, go buy yourself something." We designed cute note cards and gift card sleeves to hold our gift cards. That way ordering a gift card goes from a ho-hum purchase to a gift with a little wow factor. We even linked our downloads on our holiday shipping deadlines page and our gift card page, so customers can easily find these free accoutrements if they're planning to order a gift card.

3. Delight Our Fans
We think our customers are awesome people and we wanted a way to express our thanks for their support. Creating these downloads was a simple way to give them something fun and unexpected.
Not sure how to get started with making your own free printables? Kind Over Matter has a terrific kit for this!
This content is copyrighted. See my content sharing policy here.